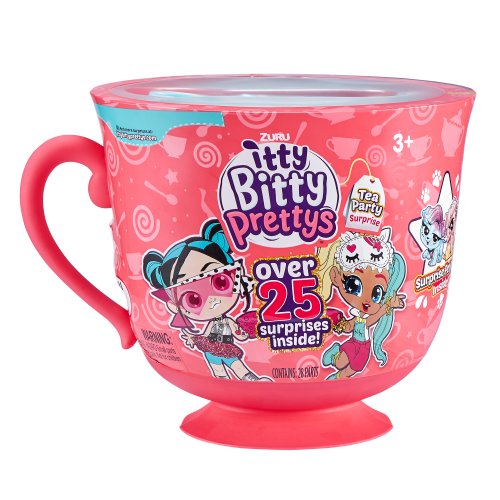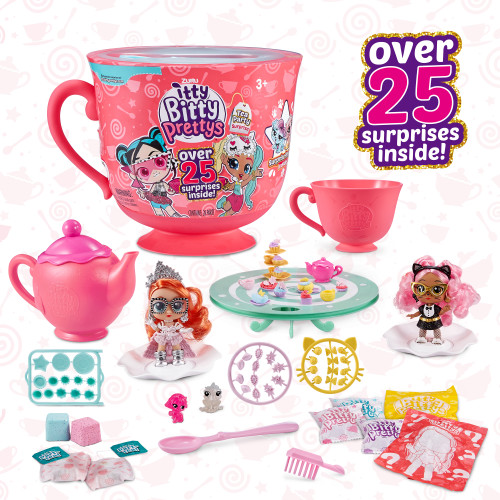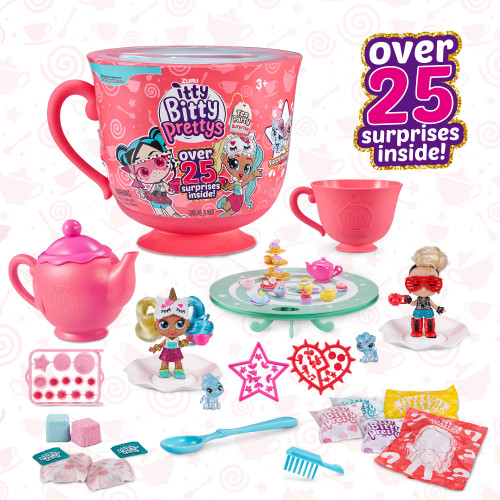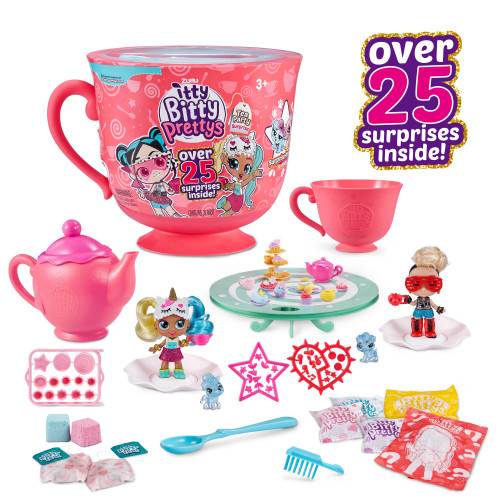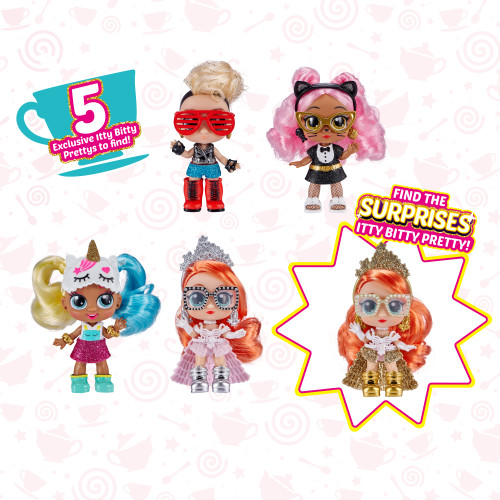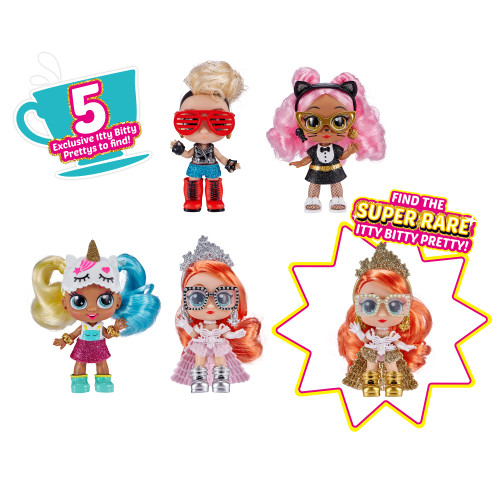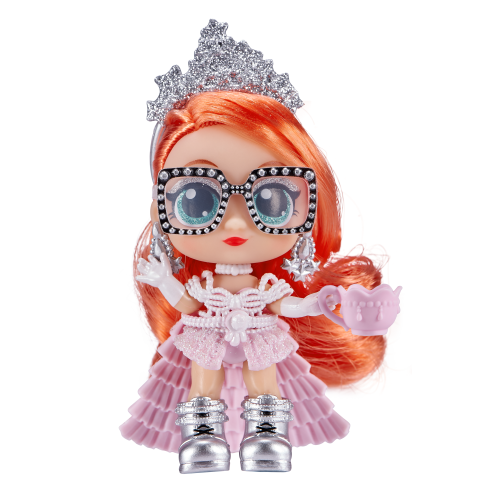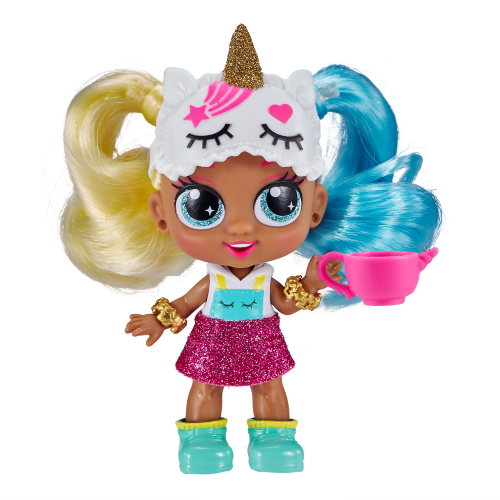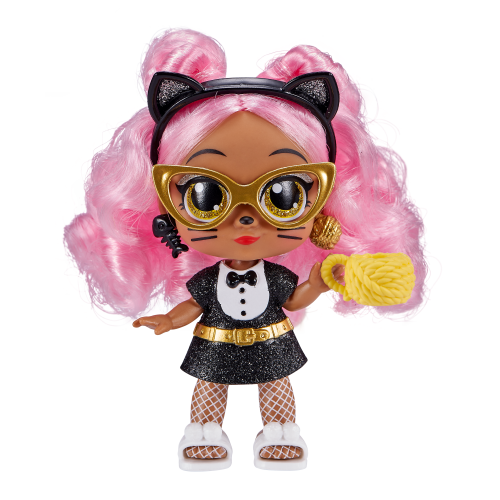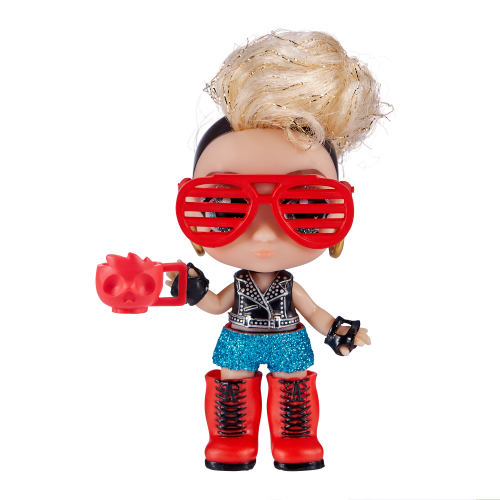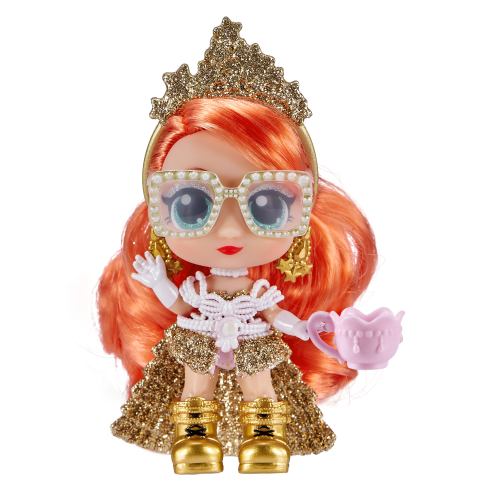 Itty Bitty Prettys Tea Party Teacup Dolls Playset (With Over 25 Surprises!) by Zuru
You're invited to the ultimate tea party! Stir open your giant teacup playset to find everything you need to host the most epic tea party, with over 25 surprises inside! Unbox your Itty Bitty Prettys teacup playset to find the magic inside! Dissolve your teabag to find your Itty Bitty Pretty's stylish outfit and shoes. Watch the sparkling cube fizz and reveal even more funky accessories! Set up your tea party table with so many accessories and fun tea party essentials. There is so much value in one giant teacup with 13 Itty Bitty Pretty dolls you can collect!
KEY FEATURES:
• ITTY BITTY PRETTYS TEACUP PLAYSET: You're invited to the ultimate tea party! With over 25 fabulous surprises to unwrap and 13 exclusive sassy and stylish Itty Bitty Pretty dolls you can collect, who will you find?!
• THE FUN NEVER ENDS WITH 25+ SURPRISES INSIDE: Including 2 exclusive Itty Bitty Pretty dolls and everything you need to host a par-tea for you and a par-tea for your Itty Bittys.
• EVERYONE IS INVITED: There's room for the whole family to create a lifetime of memories at the Itty Bitty Prettys tea party table!
• DISCOVER THE MAGIC: Dissolve your magic teabag in your teacup to reveal some of your Itty Bitty Prettys stylish outfit and accessories
• MAKE IT FIZZ: Watch your glittery fizzing cube dissolve in a shimmery burst in your teacup to find your Itty Bitty Prettys super cute accessories
PACK INCLUDES:
1 Giant Expandable Teacup Playset, 2 Surprise Itty Bitty Pretty Dolls, 1 Convertible Table Top, 1 Teapot, 1 Teacup, 1 Spoon, 1 Hairbrush, 2 Saucers/Doll Stands, 2 Magic Teabags, 2 Fizzing Cubes, 2 Swappable Outfits, 2 Sets Stylish Accessories (including shoes, jewellery & eyewear and more), 3 Packets Cotton Candy Dough: 3.0g(0.11oz) each, 1 Mini Teapot, 2 Mini Teacups, 1 Set Tableware, 2 Sets Treat Decorations, 2 Surprise Itty Bitty Pets, 1 Collector's Guide
This is huge. Haha. It's a little doll house for my tea loving kids .. great gift!

Great granddaughter loved her Christmas gift.

Price a little bit high for what it is but kids love it

Over all really cool. The only thing that was disappointing is that one of the dolls head is very wobbly. The other thing is that the clothes barely fit. One of the legs is super wobbly. It's cute and fun to play with. My daughter loves it

Omg this gift was the hit of Christmas for the girls. The only problem was getting the to share! So many little gifts in a giant teacup! Love it!

This is a great gift for kids who like opening surprise bags. There are so many layers it takes a long time to open which is wonderful! There are little gifts hiding everywhere! Look closely so you don't miss anything in the little hidey holes of the teapot.

Pleasantly surprised

Julie My granddaughter loved the process of getting to the surprises,

My niece had so much fun opening this. Very cute

Happy smile is worth the price

My 3 year old loves this! She got 2 for Christmas and a LOL doll. She had more fun with the tea cup since it's hands on with the water, instead of just opening little bags. When the dolls are together, you can't tell which one is tea cup or LOL. Great deal and will buy more. Only warning is don't get the mold wet. Turns into really sticky slime.

My daughter loved it tons of surprises and easy to fit back all in the big cup once you are done playing. Great Xmas or Birthday gift!

Surprises , That are worth getting. So much Fun!

These are Awesome .The Surprises keep coming as you start your tea party. Every one of the dolls are spectacular.I'm 60 and I love them...It's Amazing I collect a lot of them and the Tea Party Little Teacup Dolls Are My Favorite.

I bought two of them for my great niece's! They loved them!

Package was on time and undamaged. It was inside two boxes. Daughter loves it

My kids (3 and 8) love these itty bitty pretties. I actually like the play doh inside it. Wish I knew what kind it was to actually buy more lolLots of surprises. Nice house to keep them all in. Definitely better than LOL price wise ans same concept. Super cute. I prefer these. And kids are super happy with them. Very cute concept. :)

My grand daughter loved this interactive toy. She had hours of fun pouring warm water on the dissolving tea bags, and then receiving parts of the toy. Lots of fun.