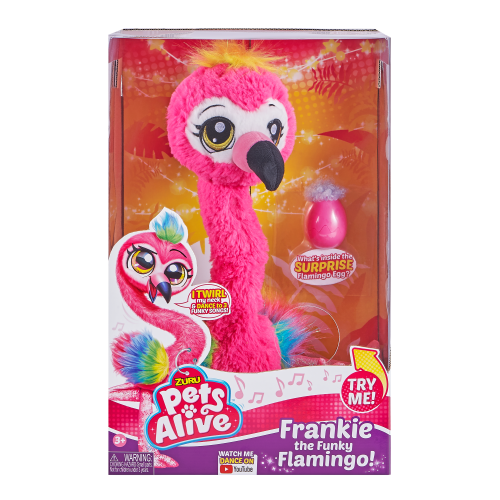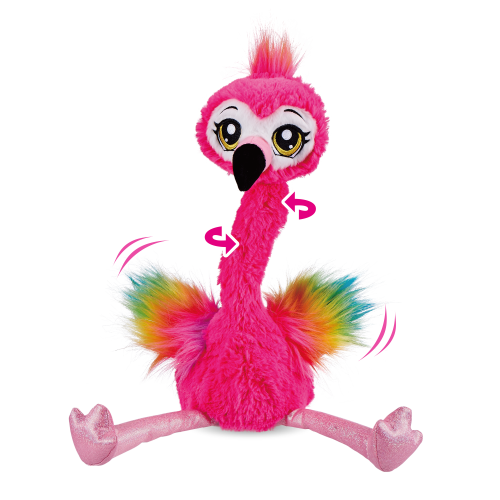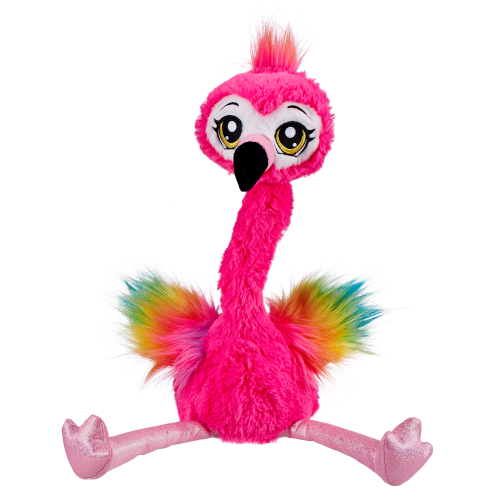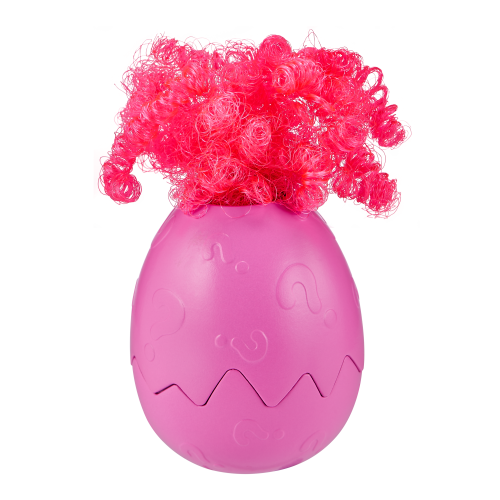 Pets Alive Frankie the Funky Flamingo Battery-Powered dancing Robotic Toy by ZURU
There has never been a funkier pet than Frankie the Funky Flamingo from ZURU Pets Alive! Her hilarious neck twirling and vibrant flapping feathers make it impossible to not get up and dance along! She dances to 3 funky songs and even comes with a baby flamingo figures to collect. Who has more FUNK? You or Frankie?
KEY FEATURES:
• FUN FOR THE WHOLE FAMILY: Frankie's hilarious dance moves and upbeat energy is undeniably contagious and makes for the perfect gift for friends and family! Comes with three funky songs to dance along to.
• SURPRISE BABY FLAMINGO TO COLLECT: These baby flamingos are just as funky and fun as Frankie! There are two baby flamingos to collect, both boasting an exceptionally funky hair style, and hiding inside their reusable egg.
• HIGH QUALITY ROBOTICS: Frankie's robotic neck twirling and vibrant flapping wings are sure to get everyone up dancing and laughing!
• PACKAGE INCLUDES 1 x Frankie the Funky Flamingo, 1 x Baby Flamigo in a reusable Egg, 1 x Instruction Manual. Batteries included.
• PETS ALIVE: Pets Alive is ZURU's newest range of adorable robotic pets. With countless ways to interact and play, these toys will capture your heart and instantly be your best friend. Pets Alive brings you fun and laughter at unbeatable value.
PACK INCLUDES:
1 x Frankie the Funky Flamingo, 1 x Baby Flamigo in a reusable Egg, 1 x Instruction Manual. Batteries included.
Positive

Got this gor my granddaughters 3rd birthday and she loves it. It's easy to play with and safe

A must have for kids and adults.

Granddaughter loved it. Very cute.

Cute moving dancing flamingo

Bought this toy for my granddaughter for Christmas and she liked it its a cute flamingo that dances and plays music very adorable

Cutest dance toy

I got this flamingo for my 3 year old daughter . She saw on the ad and has been asking me since then. The toy is really cute, dance two different songs and is very cute. She loves it

One of the cutest toys I have ever bought! Its a Christmas gift I bought for my niece. I havent given it to her yet, but it is super adorable. I would absolutely love this if I was a kid!!LikesFeaturesFor toddlersChargingBattery life

awesome gift. I love flamingos song I especially like this 1.

So adorable my daughter loves it

cute toy

I bought this for my 3yr old granddaughter who asked for it for Christmas. So I'm not sure how it works yet, but it is cute.

Bought as Christmas present. Cant do a total review yet. My 2 yr old granddaughter wanted this,

My niece is in love with flamingos and she fell in love with Frankie!LikesTechnologyDogDesignTricksBattery life

Frankie Flamingo

Really cute! But for younger kids. 3

Adorable and fun!

Funky Frankie is so much fun! Gifted it to one of my friends' little girls and they love it. Dance parties are even more fun with Frankie the Flamingo!

it's hilarious

This is the most hilarious toy that I've ever bought! it's pretty tall and is bright pink and fluffy and dances. Where could you go wrong? hahaha. My children love this thing.

Frankie!

Full size and cute. Frankie's body sits stationary while his neck moves to the music. My daughters love him. Zuru has yet to disappoint.