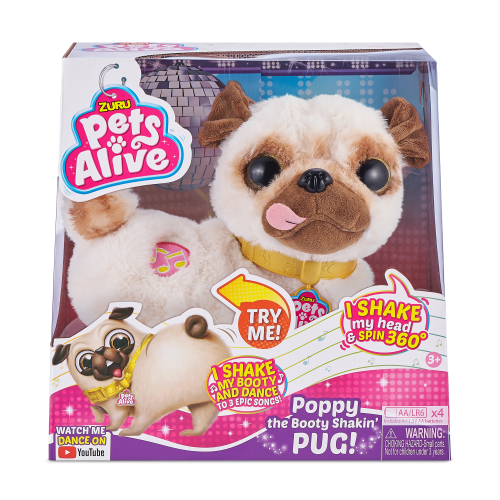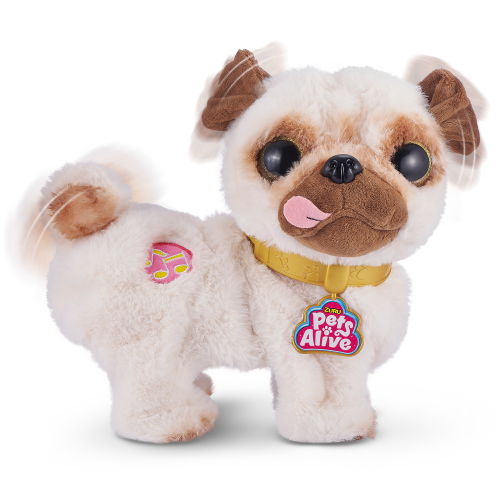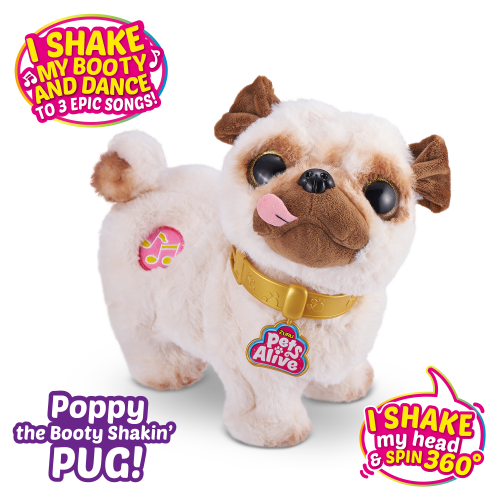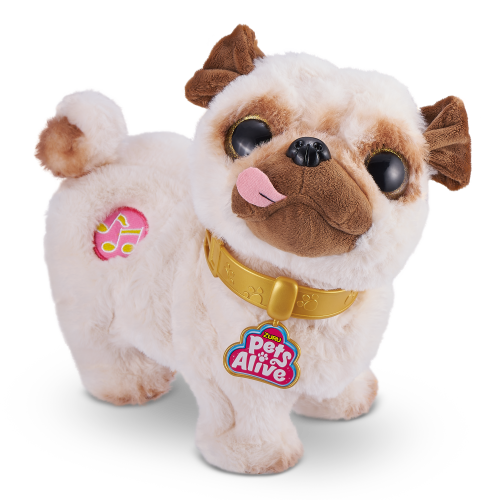 Pets Alive Poppy The Booty Shakin'Pug – Interactive Dancing Plush Puppy by ZURU
This Pug loves to Dance! Meet Pets Alive Poppy the Booty Shakin' Pug who's got hilarious moves and can groove, dance, twirl and shake her booty to 3 fun songs! With her cute realistic design and contagious energy, it's impossible for the whole family to not get up and dance with Poppy!
KEY FEATURES:
• POPPY THE BOOTY SHAKIN' PUG: Poppy's contagious energy and hilarious head twirling and booty shakin' will have the whole family up dancing and laughing for hours!
• 3 FUN SONGS FOR THE WHOLE FAMILY TO DANCE TO: Poppy has 3 fun songs she dances to! Each song lasts up to 15 seconds. Press the music button on her body and watch her come alive as you try contain your laughter!
• PERFECT GIFT IDEA: Poppy isn't just perfect for encouraging humour and laughter amongst kids and families, but it's also a great gift idea for big kids too! Ideal for bringing laughter and fun to birthday parties, Secret Santa's and any gathering!
• PACKAGE INCLUDES: 1 x Pets Alive Poppy the Booty Shakin' Pug, 1 x Instruction Manual, 4 x AA Batteries included
• ZURU PETS ALIVE: Pets Alive is our range of adorable robotic pets who bring fun and laughter to life! From Booty Shakin' llama's & Pugs to Flossing Sloths and Dancing Flamingo's – it's impossible to not get up and dance with Pets Alive!
PACK INCLUDES:
1 x Pets Alive Poppy the Booty Shakin' Pug, 1 x Instruction Manual, 4 x AA Batteries included
Fun Toy

This pug was super cute and it dances to several songs. My kids loved it.

So fun!

A while ago, my daughter got Frankie the Flamingo, and my son was so sad that he didn't get one. Enter Poppy…the Booty Shaking Pug! He was SO excited to open up the package and see Poppy! He thinks it's hilarious how the booty shakes, and he's so happy to have his own "pet"

super cute

I love how this toy works out really well. The pug makes noice and move as well. My kids are entertaines by it. Great purchase!

Best gift Every for my son

I got this for my son, its adorable it moves around and barks, its soft and very cute. Very happy with this.

Booty Shaking Pud

Amazing Booty Shaking Pud, my young love and mimic what he does. Highly Recommend.

Amazing toy

I might be bias because we have a pug at home but this is the cutest toy ever for my kids! They LOVE it. They're playing with it every second they get. Such good quality and easy to set up. And for the price; it is amazing. Works great as a gift and isn't too expensive! Definitely recommend!

Fun Toy

Such a fun toy! My daughter loves to tease our dog with it. She always wanted a pug and this is as close as she'll get.