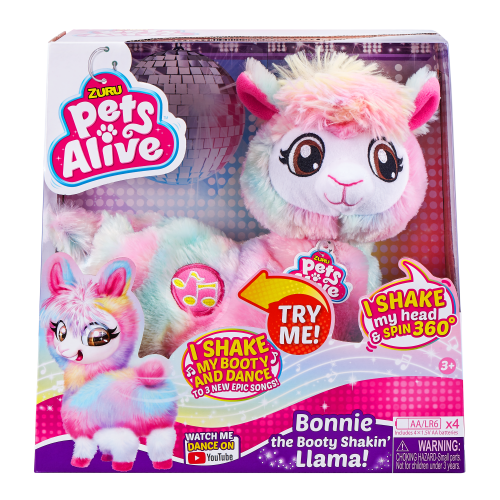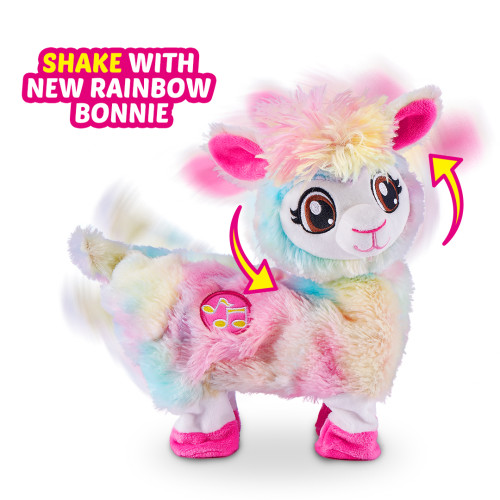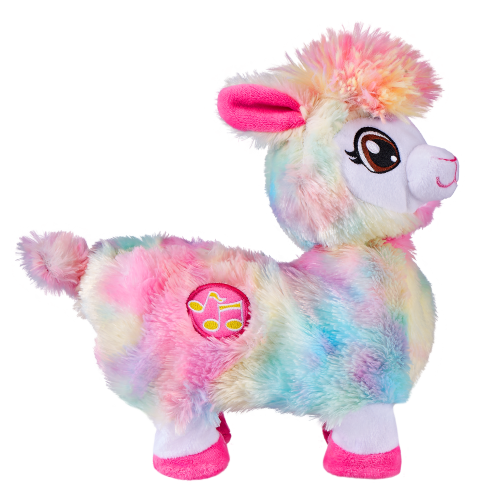 Pets Alive Rainbow Bonnie the Booty Shakin Llama Battery-Powered Dancing Robotic Toy by ZURU
Pets Alive Bonnie the Booty Shakin' Llama has had a fresh new makeover! 3 NEW epic songs, hilarious NEW dance moves and 360 spins! Can you Bop it like Bonnie?
KEY FEATURES:
• RAINBOW Bonnie THE BOOTY SHAKIN' LLAMA: Her funky personality will have everyone up dancing and laughing for hours. With her vibrant colours, and hilarious dance moves, Bonnie is sure to steal the dance floor!
• 3 NEW SONGS THE FAMILY WILL LOVE: Rainbow Bonnie has 3 NEW epic songs, New Hillarious Dance Moves, and NEW Rainbow Fur! Bonnie will have you bop-bop-Bonnieng for hours!
• HIGH-QUALITY ROBOTICS: Bonnie's robotic booty-shaken movement and head-spinning motions make it fun for family and friends to dance along with! Can you Bop it like Bonnie?
• PACKAGE INCLUDES: 1 x Pets Alive Rainbow Bonnie the Booty Shakin' Llama, 1x Instruction Manual, 4 x AA Batteries Included
• PETS ALIVE: Pets Alive is our newest range of adorable robotic pets. With countless ways to interact and play, these toys will capture your heart and instantly be your best friend. Pets Alive brings you fun and laughter at Unbeatable value!
PACK INCLUDES:
1x Llama 1x Instruction Manual
Always entertaining

Gave this as a gift and it is the gift that keeps giving. Always good for a smile.

Good saler

Good condition

Best gift

I get this as a gift for all my friends kids and they love it!! It's a unique gift they haven't thought of and the kids think it's fun to play with

This is the cutest dancing lama and the kids love dancing along. Bright colors and lots of movement.

Birthday star!

My 3-year-old got this for her birthday, and oh my gosh, all my kids love it!Bonnie is the most played with toy in our house.She has gone to every show-and-tell for every one of my kids.She is loved by the babies at daycare and the grandparents on video chats.Every night I have to switch her off so that my daughter can sleep with her.Bonnie is now on the Christmas list of my other children and their friends.

Hilarious!!!

Will make you and your children laugh!

It keeps you dancing

I love this toy and my niece do too

Super cute and dances.

My niece absolutely loved this. I got it for her for her bday. Its super cute and fun for her to dance with

it's so cute! i bought it for my 3 year old niece and she just has a fun time

This llama is super cute! My daughter absolutely loves it. Very soft. She cracks up at the "booty shake" dance!

Cute toy

It's a cute toy.My niece loved it.

I think I love this toy as much as my daughter! It's so cute and fun. The llama does a booty shake and dances around. My daughter hasn't stopped playing with this since we got it.

The Llama is so adorable. I want to keep it and not give it to my kids. So behind their back, I opened the box and start hugging it… when the Llama suddenly dancing through the music. That's really scare me LOL. The Llama is really cute, and the dancing is so funny, but for me the music a bit annoying.I love it when Bonnie shakes her booty and bopping her head. I have 3 kids; 5 yrs girl, 9 yrs old boy, and 10 yrs old boy. They all love rainbow, Unicorn, and Llama. So when they finally saw Bonnie, they are fighting over it. I ended claiming Bonnie as mine and the three kids can share it with me ? Bonnie fur feels so soft, and the color is very happy. Her face looks so innocent but also mischievous. Her dancing is very contagious, all my kids do the dancing with Bonnie. The price is decent, but for me I wish it is cheaper so I can buy more Pets A live. As I mentioned the music a bit obnoxious for me LOL I am glad for the Off button. I recommended Bonnie for your kids at any age

My kids all love this little llama. My daughter loves the rainbow fur. Good way to get them up and moving. Love how he moves around doesn't just stay in one spot. The music could last just a little but longer. But otherwise was good gift.

My 4 year old daughter absolutely loves Bonnie the Booty Shakin' Llama! She gets such a kick out of the dance moves and she dances along with the toy and the music! The rainbow fur is the perfect color. My daughter has played endless hours with this toy, it's been great entertainment.