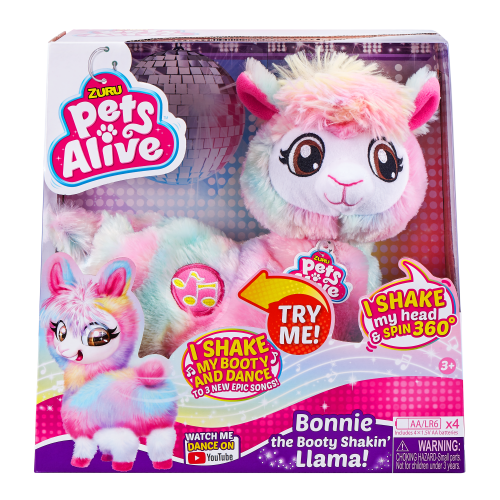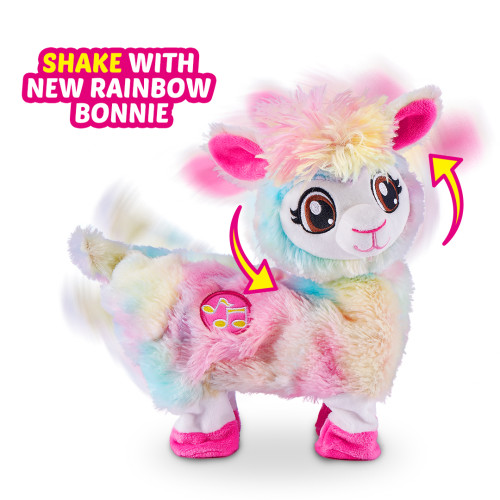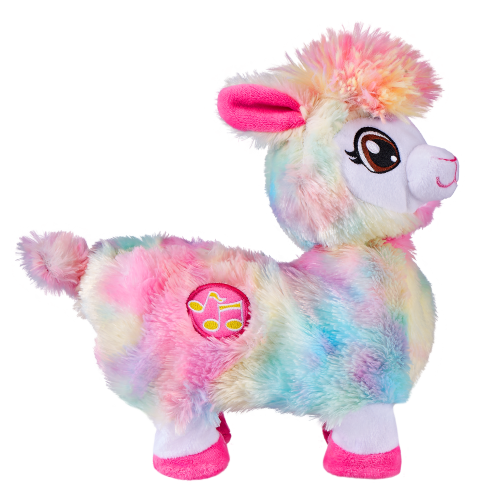 Pets Alive Rainbow Bonnie the Booty Shakin Llama Battery-Powered Dancing Robotic Toy by ZURU
Pets Alive Bonnie the Booty Shakin' Llama has had a fresh new makeover! 3 NEW epic songs, hilarious NEW dance moves and 360 spins! Can you Bop it like Bonnie?
KEY FEATURES:
• RAINBOW Bonnie THE BOOTY SHAKIN' LLAMA: Her funky personality will have everyone up dancing and laughing for hours. With her vibrant colours, and hilarious dance moves, Bonnie is sure to steal the dance floor!
• 3 NEW SONGS THE FAMILY WILL LOVE: Rainbow Bonnie has 3 NEW epic songs, New Hillarious Dance Moves, and NEW Rainbow Fur! Bonnie will have you bop-bop-Bonnieng for hours!
• HIGH-QUALITY ROBOTICS: Bonnie's robotic booty-shaken movement and head-spinning motions make it fun for family and friends to dance along with! Can you Bop it like Bonnie?
• PACKAGE INCLUDES: 1 x Pets Alive Rainbow Bonnie the Booty Shakin' Llama, 1x Instruction Manual, 4 x AA Batteries Included
• PETS ALIVE: Pets Alive is our newest range of adorable robotic pets. With countless ways to interact and play, these toys will capture your heart and instantly be your best friend. Pets Alive brings you fun and laughter at Unbeatable value!
PACK INCLUDES:
1x Llama 1x Instruction Manual
© 2020 ZURU Inc. All rights reserved
english
Please select your birthday.
By subscribe to receive emails from ZURU, you agree that we may use your personal information provided by you to send you marketing emails. You can opt out these emails any time by clicking the unsubscribe link or by contacting us. To see how to control your personal data, please see our Privacy Policy and Terms of Use
.
By subscribe to receive emails from ZURU, you agree that we may use your personal information provided by you to send you marketing emails. You can opt out these emails any time by clicking the unsubscribe link or by contacting us. To see how to control your personal data, please see our Privacy Policy and Terms of Use
.
Many of our toys are shaped by the creative minds of dreamers and innovators from all over the world. We welcome new ideas and cherish new relationships with inventors like you! Do you think you have a groundbreaking, unique toy idea for ZURU? We would love to here from you!
Please select your birthday.
By subscribe to receive emails from ZURU, you agree that we may use your personal information provided by you to send you marketing emails. You can opt out these emails any time by clicking the unsubscribe link or by contacting us. To see how to control your personal data, please see our Privacy Policy and Terms of Use
.
By subscribe to receive emails from ZURU, you agree that we may use your personal information provided by you to send you marketing emails. You can opt out these emails any time by clicking the unsubscribe link or by contacting us. To see how to control your personal data, please see our Privacy Policy and Terms of Use
.
Product Name
Required fields are marked with *
Overall Rating *
Click to rate!
Would you recommend this product to a friend?
Did you read product reviews online before first purchasing this item?
Where did you purchase the product?
Did you purchase this product for yourself or a gift for someone else?
You may receive email regarding this submission. Any emails will include the ability to opt-out of future communications.