We pride ourselves on delivering the
highest quality products that deliver
exceptional play experiences.
We pride ourselves on delivering the
highest quality products that deliver
exceptional play experiences.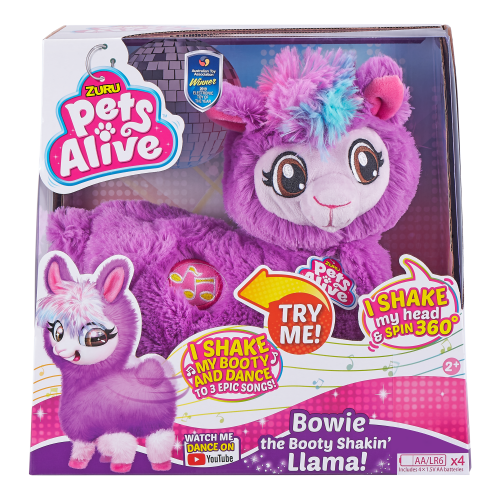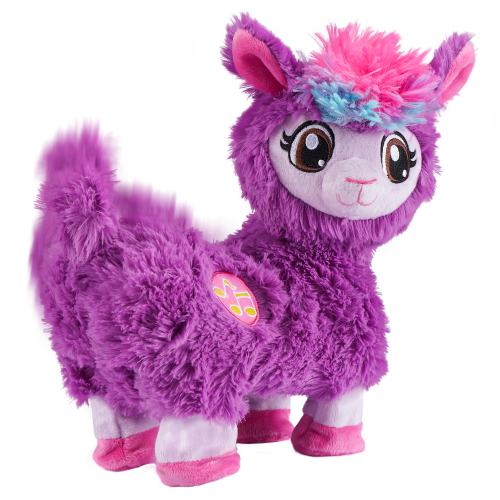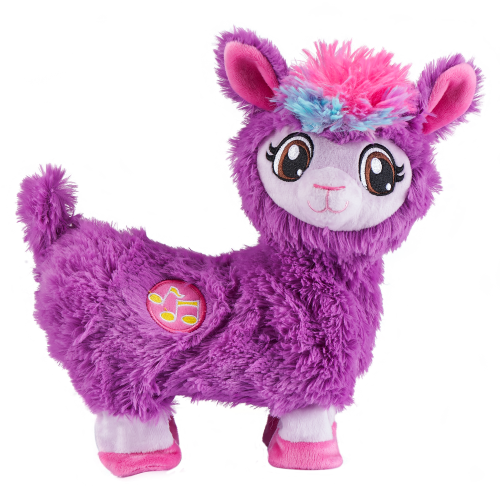 Pets Alive Bowie the Booty Shakin Llama Battery-Powered Dancing Robotic Toy by ZURU
Pets Alive Bowie the Booty Shakin' Llama will get the whole family up dancing and laughing for hours! Three awesome songs to bop and spin to.
KEY FEATURES:
• BOWIE THE BOOTY SHAKIN' LLAMA: get the whole family up and dancing for hours with Bowie. Comes with three awesome songs to dance along to.
• ROBOTIC FUNTIONALITY: Bowie's robotic booty-shaking movement and head-spinning motions make it fun for family and friends to dance along with. Who will win the dance battle?
• FUN FOR THE WHOLE FAMILY: Bowie is absolutely adorable, hilarious and makes the perfect gift for family and friends alike.
• PACKAGIE INCLUDES: 1 x Pets Alive Bowie the booty shakin' Llama, 1 x Instruction manual. Batteries included
• PETS ALIVE: Pets Alive is our newest range of adorable robotic pets. With countless ways to interact and play, These toys will capture your heart and instantly be your best friend. Pets Alive brings you fun and laughter at Unbeatable value.
PACK INCLUDES:
1x Llama 1x Instruction Manual
Perfect gift

Gave as a 4 year gift. She absolutely loved it!

Great toy

My grandbabies loved it - dances and sings - adorable toy!!!!

Brighten your day

I ordered him because I was having a bad day. Best dumbest purchase I ever made. I love it!!

Worked Great!

Granddaughter loved it.It had the kids dancing all around the room.

I love it

These are adorable. I bought one for my grand daughter and one for myself.

Fun

My daughter Absolutely loved it. Lots of fun

Cute, fun and funny!!

Cutest toy ever. They loved it.

Scene stealer

This toy is adorable. I covered the offensive word with a marker all over the box. Once the box is thrown away it doesn't matter anyhow. The two year old who received this was uninterested in any other gifts.It made her dad laugh so hard I sent him one as prank gift!

Wiggly

Purchased for a gift but pressed the try me button and this is the cutest wiggly little llama so brightly colored and fluffy sure to be a hit!

Awesome toy!

What a fun little pet. Granddaughter loved it as did everybody that saw it. We laughed and laughed. It's very soft too so now it's a favored sleeping buddy.

quality and service

Adorable. Great service

over priced.

child was finished watching it spin in about an hour. Now it sits with ALL the other gimmicks.

Entertaining for little ones.

This was a gift for my 45 year old sister (who would actually give it to her 3 year old granddaughter)and it had us all cracking up laughing.I was surprised at the balance of this thing - with all the dancing, moving and shaking, it never fell over!Great to entertain little ones.

dumb, but the kid likes it.

yay for the twerking lama

Wild llama

Fun toy that makes u laugh and smile. Bought as a gift and the parents found it silly and fun too.