We pride ourselves on delivering the
highest quality products that deliver
exceptional play experiences.
We pride ourselves on delivering the
highest quality products that deliver
exceptional play experiences.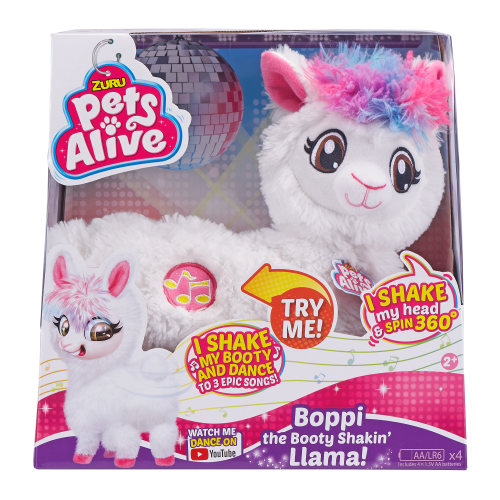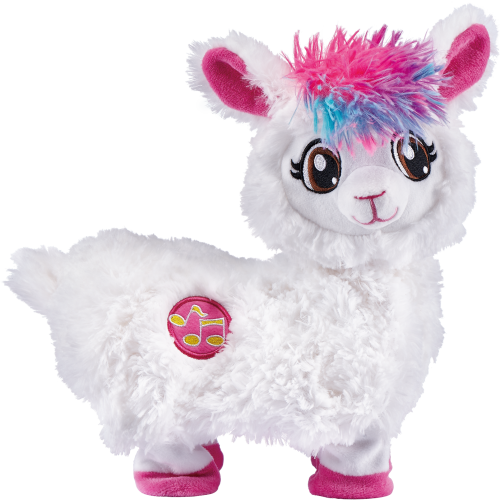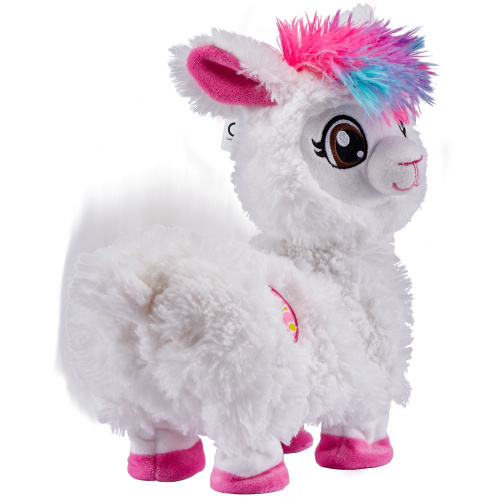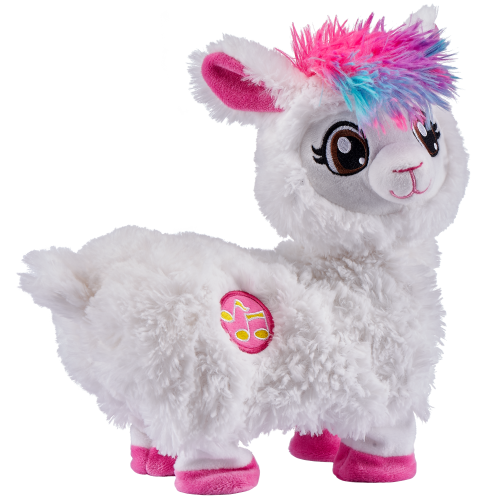 Pets Alive Boppi the Booty Shakin Llama Battery-Powered Dancing Robotic Toy by ZURU
Pets Alive Boppi the Booty Shakin' Llama will get the whole family up dancing and laughing for hours! Three awesome songs to bop and spin to.
KEY FEATURES:
• BOPPI THE BOOTY SHAKIN' LLAMA: get the whole family up and dancing for hours with boppi. Comes with three awesome songs to dance along to.
• ROBOTIC FUNTIONALITY: boppi's robotic booty-shaking movement and head-spinning motions make it fun for family and friends to dance along with. Who will win the dance battle?
• FUN FOR THE WHOLE FAMILY: Boppi is absolutely adorable, hilarious and makes the perfect gift for family and friends alike.
• PACKAGIE INCLUDES: 1 x Pets Alive boppi the booty shakin' Llama, 1 x Instruction manual. Batteries included
• PETS ALIVE: Pets Alive is our newest range of adorable robotic pets. With countless ways to interact and play, These toys will capture your heart and instantly be your best friend. Pets Alive brings you fun and laughter at Unbeatable value.
PACK INCLUDES:
1x Llama 1x Instruction Manual
Fun toy, loud, cute dances

Cute and fun. 5 y/o has wanted one since seeing the commercial months ago. The volume cannot be adjusted, so it is either loud or in test-mode (the songs and dances are shorter). Fur is soft and durable, recommend purchasing to brighten a kids week.

Very pleased!

Real cute. My granddaughter will love it. She was very specific about wanting the purple one!very

The toy is entertaining. This rainbow color plays better songs and is more lively than the purple one. We got this color for one daughter and purple for the other daughter. The daughter who got purple was a little disappointed due to the music choice differences. The rainbow one is definitely more upbeat and theatrical.

Good staff, bad warehouse.

Received the wrong color and had to drive to the store to exchange it. However the staff person dealing with the error did a great job.

BOOTY LlAMA

GRANDBABY IS 1 YEAR OLD AND LOVES IT. CUTE SOFT AND FUN FOR HER

Good purchase.

Very funny toy. Good purchase. Fast delivery.

Absolutely adorable!

I bought this for my almost 2 year old daughter as a birthday gift. This was by far her favorite gift! She loves the fact that she can dance with her llama. Absolutely adorable!

Extra cute mechanical pet toy

My 6 year old grandson went on and on about it. I do think the slightly older child is better suited because they have more experience with its movements and can appreciate how cute it really is. And the music is right on target with the movements.

Great for a good laugh

This toy is so much fun. The color is super cute and bright. The three songs are upbeat and fun to dance too. Watching the llama shake her booty definitely makes both kids and adults laugh.

I bought the rainbow one as a gift and received the wrong color but it other than that it was perfectly fine. I will not return/exchange.

her favorite gift!

omg. my granddaughter went crazy over this thing!

Good buy

Cute little toy. My 6 and 5 yr old grandkids loved it!

My daughter loves this llama so much! Its cute! Booty shaking llama! Two songs it dances too! The kids at her school love it too! Lol

Worthy buy

My daughter liked it

Cute and kids love it

This thing makes me smile everytime my kids play with it. It's very cute and it keeps my little ones entertained. I also bought one for my niece and she takes it everywhere with her..lol.