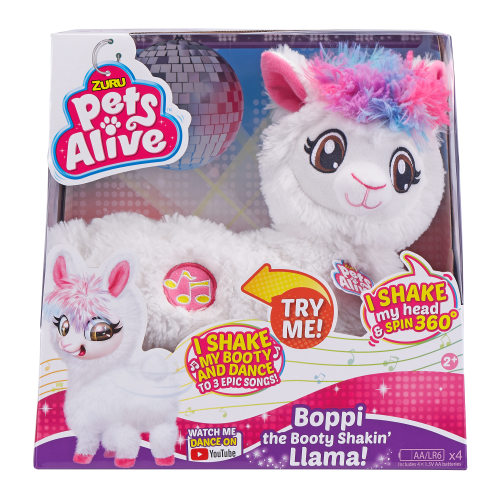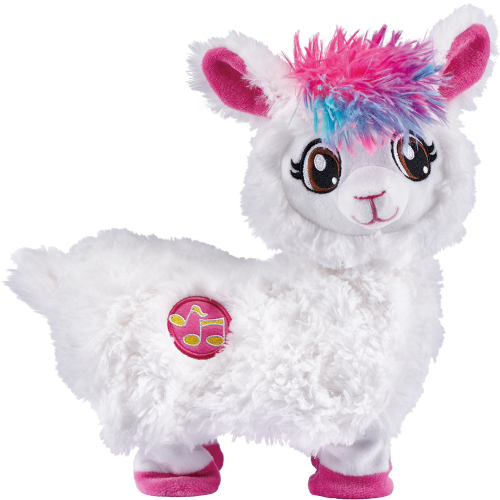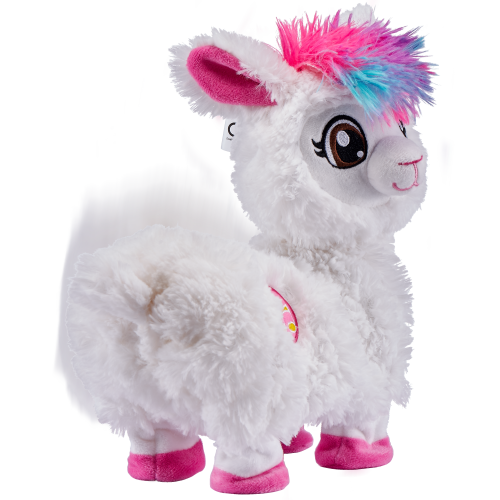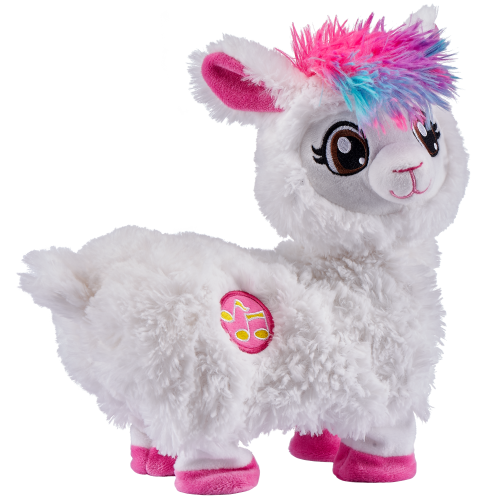 Pets Alive Boppi the Booty Shakin Llama Battery-Powered Dancing Robotic Toy by ZURU
Pets Alive Boppi the Booty Shakin' Llama will get the whole family up dancing and laughing for hours! Three awesome songs to bop and spin to.
KEY FEATURES:
• BOPPI THE BOOTY SHAKIN' LLAMA: get the whole family up and dancing for hours with boppi. Comes with three awesome songs to dance along to.
• ROBOTIC FUNTIONALITY: boppi's robotic booty-shaking movement and head-spinning motions make it fun for family and friends to dance along with. Who will win the dance battle?
• FUN FOR THE WHOLE FAMILY: Boppi is absolutely adorable, hilarious and makes the perfect gift for family and friends alike.
• PACKAGIE INCLUDES: 1 x Pets Alive boppi the booty shakin' Llama, 1 x Instruction manual. Batteries included
• PETS ALIVE: Pets Alive is our newest range of adorable robotic pets. With countless ways to interact and play, These toys will capture your heart and instantly be your best friend. Pets Alive brings you fun and laughter at Unbeatable value.
PACK INCLUDES:
1x Llama 1x Instruction Manual
The grand kids loved it. Even made a few adults giggle.

Bought this for my little cousin who's 5 and she absolutely loved it!! It's very cute in person!!

Opened today, my daughter loves it! So hilarious to watch her dancing alongside it. You need this if you have little ones.

Great for a gift someone special, well worth your money

Wonderful gift. My granddaughters loved it!

Stupid and cute.

This thing is hilarious. I didn't realize I needed to pull the plastic piece out of the battery pack at first, but once I did, it started playing and dancing to a bunch of different songs.

Purchased as Christmas gift for 7 year old. She saw it online and begged for it! Told her Santa would take note!

I purchased this for my youngest as a Christmas present last year. she absolutely loves it! she still plays with it and it is still holding up. lots of laughs out of it.

My kids find it so enjoyable and laugh. The grown-ups put it away after a while it plays music.

It is so much fun to play with

Colorful and happy face lama. My grandson love it

Great product. I would have given 5 stars but I ordered white and was sent purple. If I had wanted purple, I would have ordered that color.

Boppi's booty dose not shake. It makes music and wiggles his head that's it. I got a refund and they let me keep the toy grand kids like it anyway

Bought a couple of these on sale and my nieces loved these! So cute and a few different songs play, so it's not the exact same over and over.