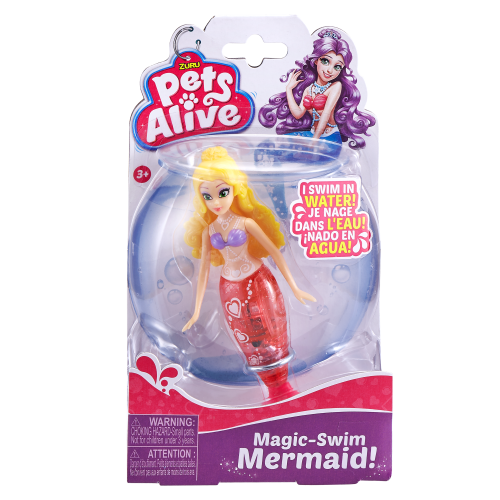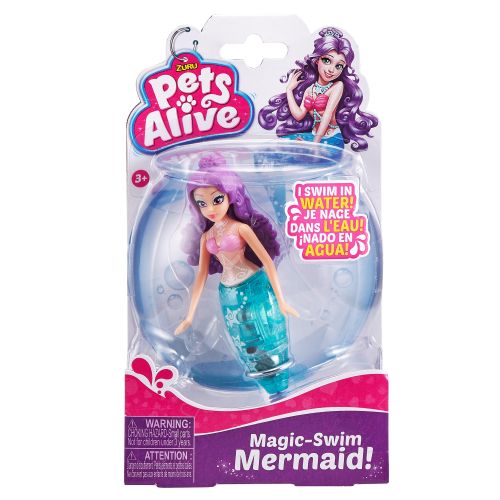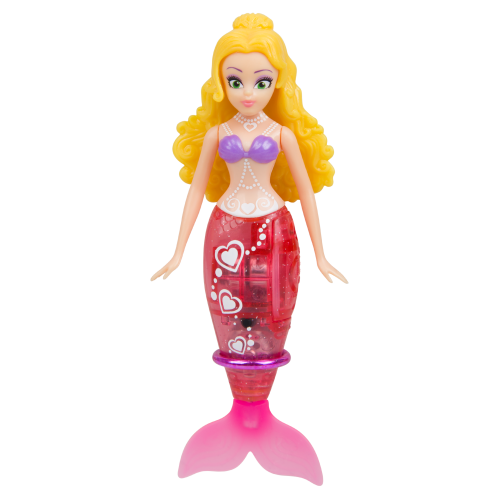 Pets Alive Water Activated Magical Mermaid Robotic Toy by ZURU
Magic Mermaid gracefully swims as soon as you place her in her enchanting water wonderland. So cute, so sweet and so REAL!
KEY FEATURES:
• 100% waterproof & water activated
• Swim in four directions across water with arms raised, and up and down with ring attached to tail
• Robo-Advance 'power save'; switch off after 4 minutes
• Realistic and eye catching colouring
PACK INCLUDES:
1x Magic Mermaid 1x Instruction Sheet
Makes Bathtime Fun!

We purchased the purple fish and it definitely made bathtime way more fun! It seriously moves like a real fish! So fun!

Perfect for water play time!!

Super cute water toy for my 5 year old!! Shes obsessed with mermaids !

Super cute pink turtle made bath time fun!

My 5 year old daughter got the pink turtle and now she loves bath time! It use to be a bit of hassle, but this cute swimming turtle has given her lots of fun and enjoyment while bathing. This turtle can really move too! I was impressed how fast it could move. Its very durable and even outside of the water my daughter will be found playing with this toy.

Pretty mermaids

Very pretty little mermaids that really does comes alive in contact with water ( its tail starts to move ). My daughter enjoys playing with them in the bathtub and also in the pool . Very neat !!

it's super cute, WE LOVE IT

WE LOVE IT... we where at the pool when asked my husband to bring the new pet fish... my dauthers first thought was a real animal swimming to them lol was so funny. they look amazing, swim like a real fish would do, and they came to people for "cuddle" lol. The only think, we order for a mermaid and receive a fish. and a suggestion, put some light in there, they would look more than amazing!!!

Pets Alive!

We love these! My daughter ended up receiving the fish, and thats perfect because she loves anything that is a water animal! She also loves that this is small and shes able to put it in her pocket and keep it with her when shes not playing with it. Will def be buying more of these

Lots of fun

We got the little fish....my little one played with in the pool and enjoyed watching it swim. In the house we filled up a glass jug......he too enjoyed watching it. Will definitely get more of the fish. Good fun.

So fun!

My kiddos love these! We purchased the mermaid and the fish. They are interactive in water and they swim on their own! They opened them outside with friends and played in a bowl of water but right after my son and daughter took them straight to the bath tub to play with on their own. Highly recommend!

Perfect bath time toy or pool toy.

Kids loved playing with it. Batteries seem to be holding up very well.

great buy

kids loved how this swims in the pool with them. They loved playing with these and they are really well made.

Best pet ever.

This little fish is the perfect pet you can have . My little one just loved it.

My kids loved their mermaid in the pool. She really swam well and made their time in the water a lot more entertaining. They were even trying to swim like her :)

Lots of fun

This was the cutest littlw gift! Floats well sesoite other reviews. We got the mermaid, and love the excitement of not knowing which one we were going to get since the lost said it varies!

I will get more

My kid loved the fish, it is safe to use in water. I t started right away, very simple to use. I will consider getting the turtle next time I go to the store.

Zuru swimming Mermaid

We ordered the Turtle but ended up with a mermaid .Walmart needs to fix the link on here. The Mermaid is very cute. And Does swim in water as packaging says. My daughter played with it for more then 45 mins! I would definitely want to purchase a couple more of the different characters so they could swim all together! The only thing that was slightly negative was once you take the ring off to change the direction the swim, it's difficult for a younger kid to get it back on. Other then that it's a lot of fun to play with.