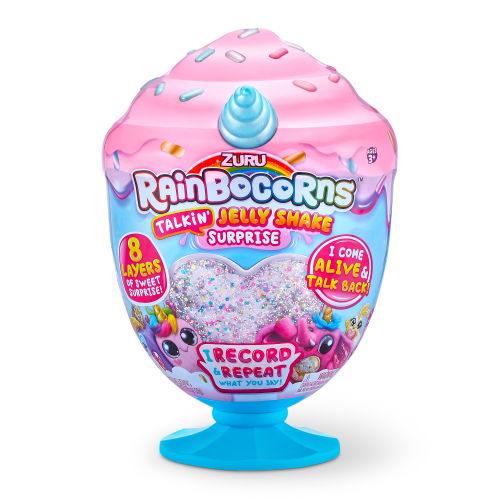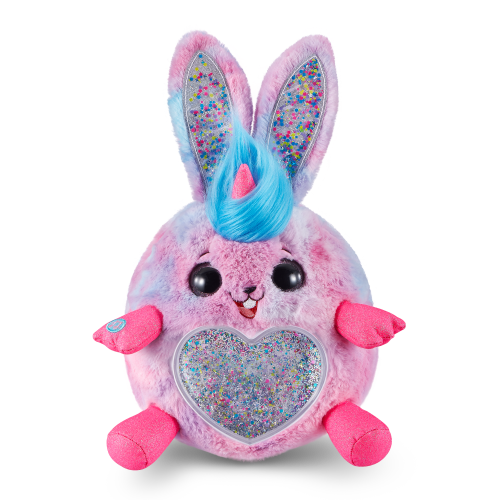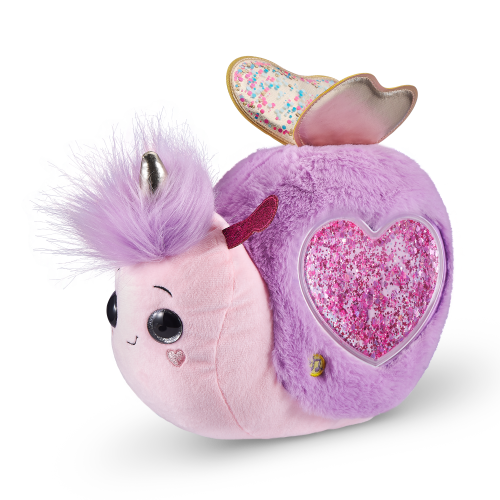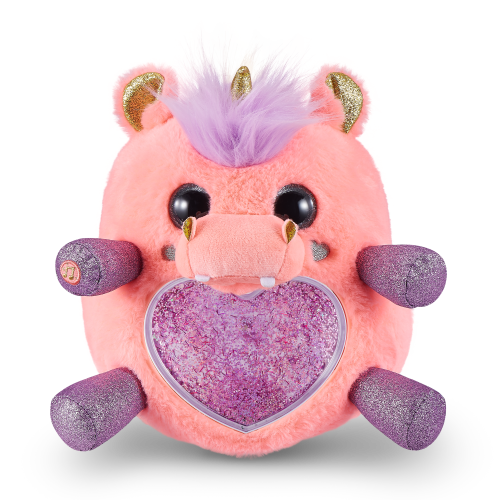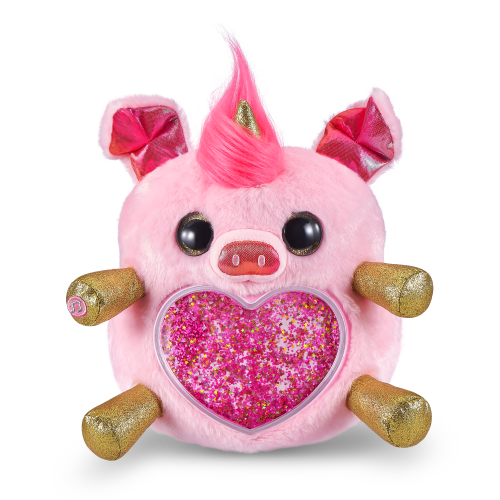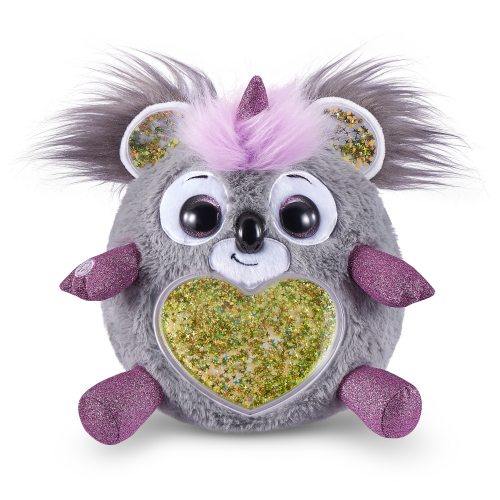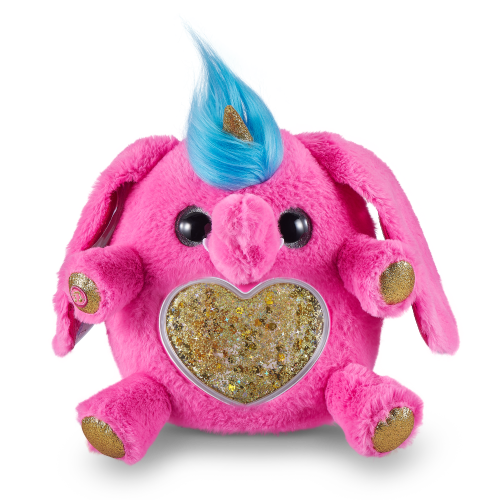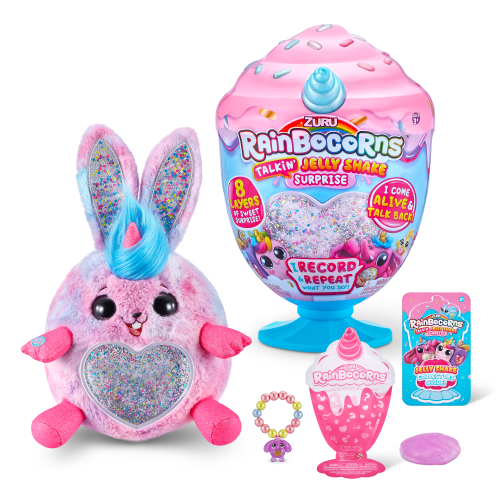 Rainbocorns Talkin' Jelly Shake Surprise Electronic Plush by ZURU
Rainbocorns Talkin' Jelly Shake are full of so many sweet surprises! Press their paw once to hear them giggle, press twice and they will repeat what you say! Swirl and squeeze their jelly hearts, and even make your own jelly-tastic jewelery with Boo-Boocorn charms! Discover 6 new sweet-sceneted characters, including the Koalacorn and Hippocorn! Who will you find?
KEY FEATURES:
• RAINBOCORNS TALKIN' JELLY SHAKE SURPRISE: Rainbocorns that talk back! Press their music notes once to hear the cutest Rainbocorns sounds or press twice and speak, your Rainbocorn repeats what you say in the cutest voice! What secrets will you spill to your new BFF Rainbocorn?
• SWEET-SCENTED JUST LIKE JELLY: These 6 cute Rainbocorns hatch with the yummiest scents just like Grape & Strawberry. Which candy-licious flavor will your new Jelly Shake Rainbocorn be?
• MAGICAL JELLY HEART: Pop your unique jelly sparkle heart into your Rainbocorn's belly! Swirl, squeeze and squish it around for a sparkly treat, or pop it off and wear it as your own shiny accessory in your hair, on your bag or anywhere!
• PACKAGE INCLUDES 1x Giant Egg Cup, 1x Electronic Rainbocorn with Jelly Heart Accessory, 1x Boo-Boocorn Charm, 1x Collector's Guide, 1x Pack Jelly Slime, 1x Length Necklace String, 1x Pack Beads.
• RAINBOCORNS are the ultimate surprise egg! Combining mystery unboxing, quirky surprises and cuddly plush, Rainbocorns are sure to be your new best friend! There are so many surprises to find: Boo-Boocorns, reveal hearts and even Rainbocorn Poop... The layers of magic and excitement never end! There are so many new Rainbocorns hatching from Rainboville - who will you find?!
PACK INCLUDES:
1x Giant Egg Cup, 1x Electronic Rainbocorn with Jelly Heart Accessory, 1x Boo-Boocorn Charm, 1x Collector's Guide, 1x Pack Jelly Slime, 1x Length Necklace String, 1x Pack Beads.
My daughter loves everything that is surprise!She had a blast opening the egg and finding the adorable plush, all the extra surprises were the icing in the cake.

The cutest Rainbocorn ever! It's so fluffy and cute and smells amazing. My 5 year older loves it! The little surprises that come with it are super fun. This is the perfect birthday and holiday gifts.

The rainbocorns packaging itself is a fun experience. My niece got excited even before opening it. The smell is very nice and the toy is very cute. And the record and repeat feature is lots of fun to use. I recommend it for girls 5+.

My daughter loves all things Rainbocorn and this newest talking jelly shake surprise is a new favorite. From it's scented main animal to all the little toy additions that Zuru is known for- this would make a great gift. Plus recording and repeating back to you - that's been fun since the 80s. Overall still impressed with the new Rainbocorn!

My niece loves Rainbocorns and the Koala is so cute!

My girls collect these. And the moment I saw the koala, I absolutely NEEDED to add it to their collection. These things are so cuddly and cute. And every time we get one they are a new surprise! 100% recommend to anyone needing gifts for girls this holiday season.

Got this for a birthday party gift. Fun to open and nice quality!

Come with cute snail and extra accessories

This is great for birthday parties or Christmas! My niece loves it. It has a lot of value for the price. The kids can collect all the different animals too

My little ones love rainbocorn and this newest edition is no different. They are so adorable and this one has an awesome talk back feature.

Okay, take this out of the packaging and the smell is just soooo good! My daughter carries this toy everywhere! Not only is it soft and cuddly, but she has a blast playing with it. It sings and records/repeats what you say. She gets a kick out of it! She wants to collect all of them now!

This is amazing! There are not many Koala plushies that are cute. Having to be able to record and playback is a plus. Great buy!

Perfect for kids who like koalas. Lots of fun surprises and a cuddly rainbowcorn inside. We collect a lot of these and this is my daughter's favorite. The quality is amazing, the details perfection. Even cuter in person. It is nice being able to select the style from the series and have it shipped. Seems unique to Amazon (unless a secondary purchase) and is appreciated.