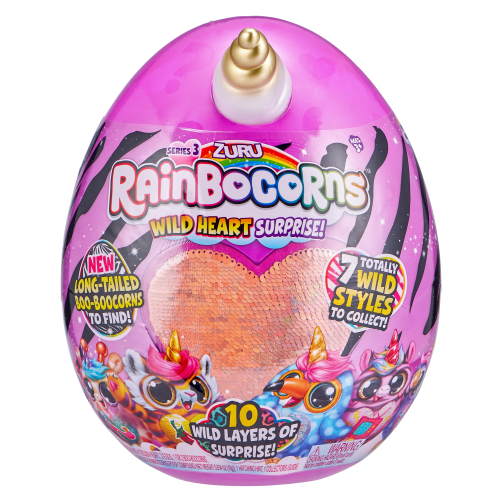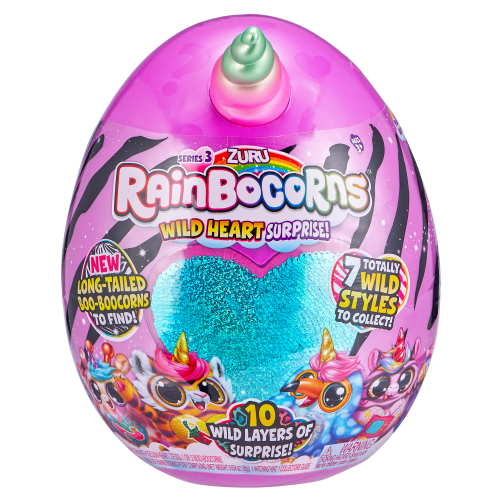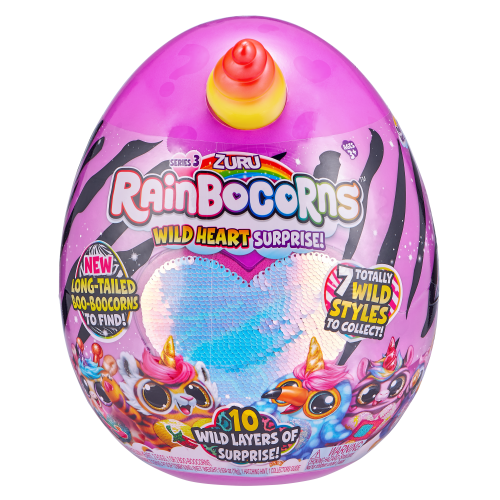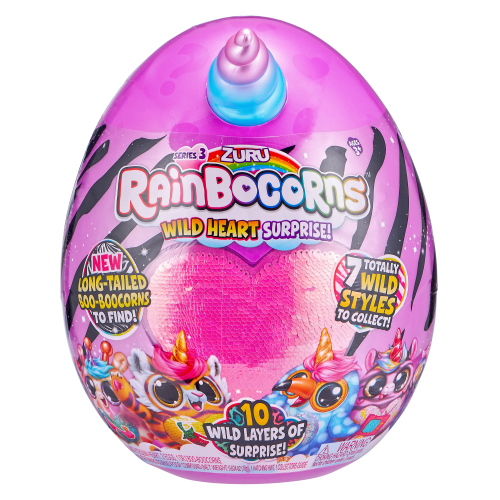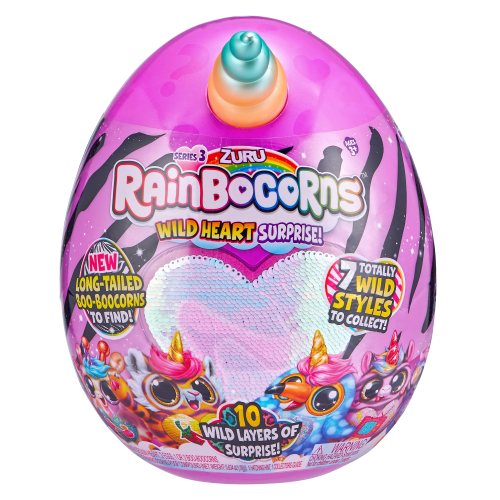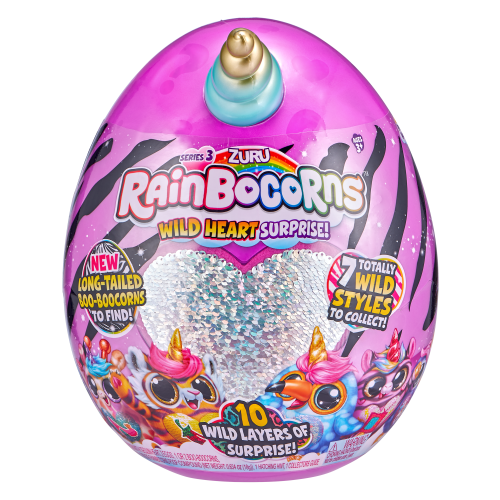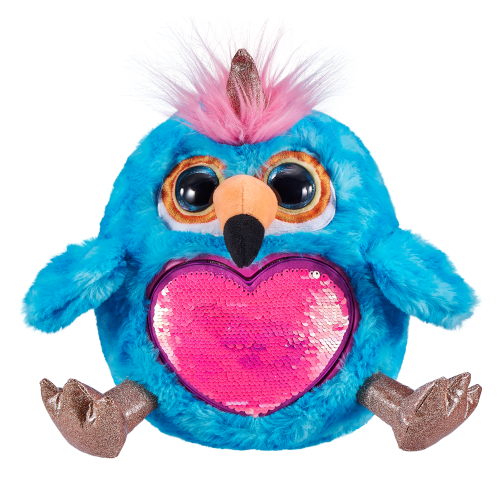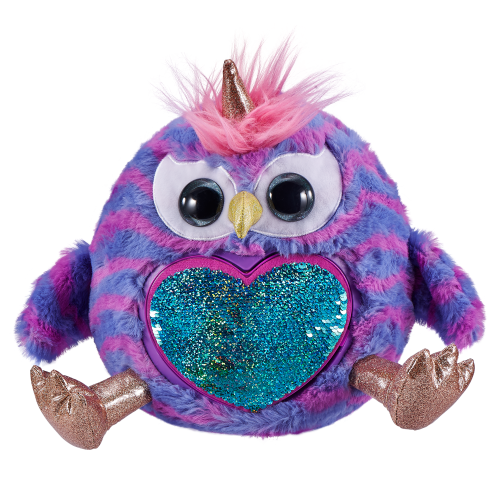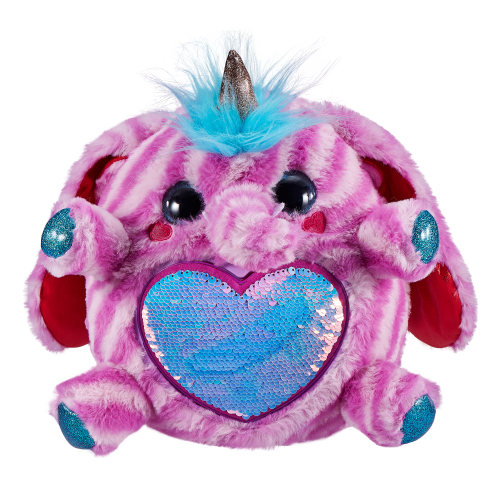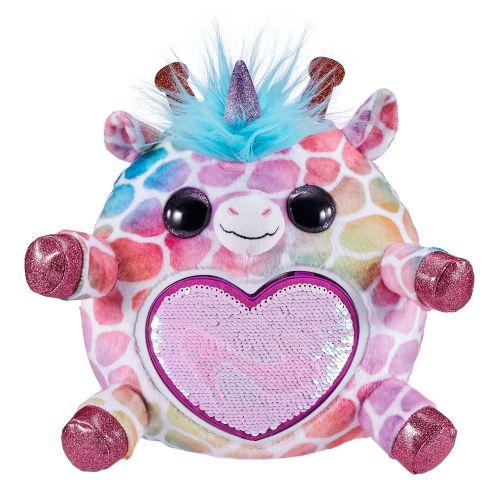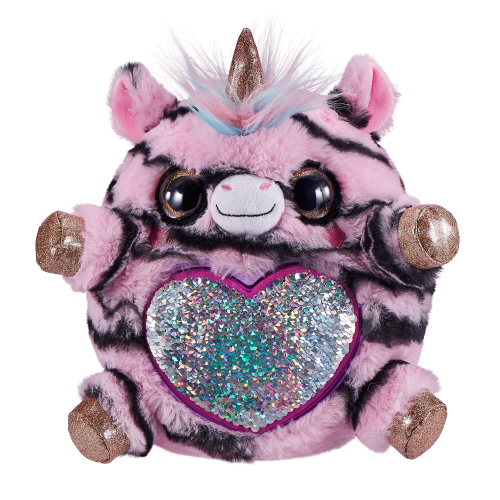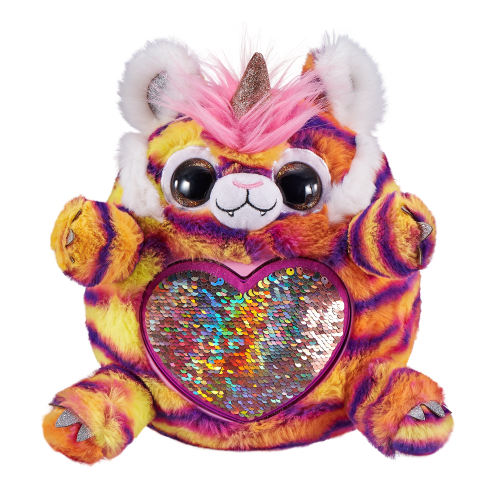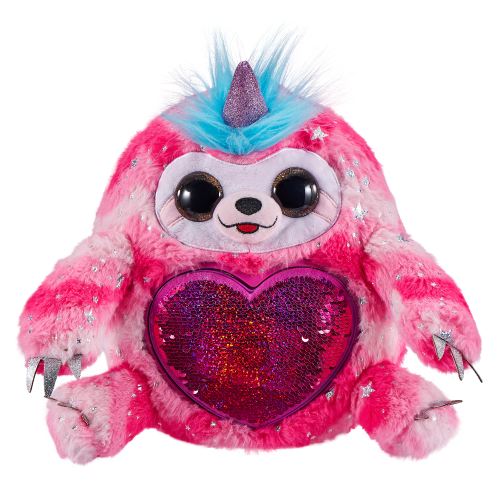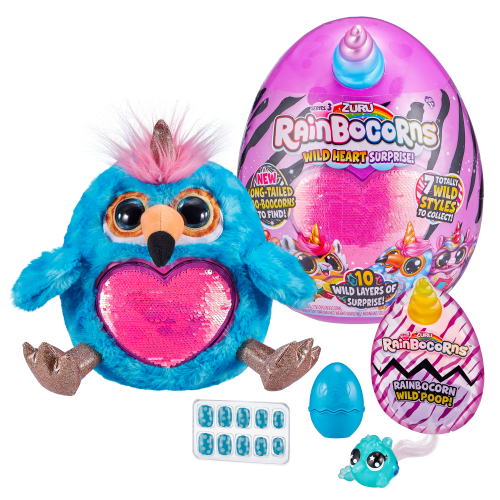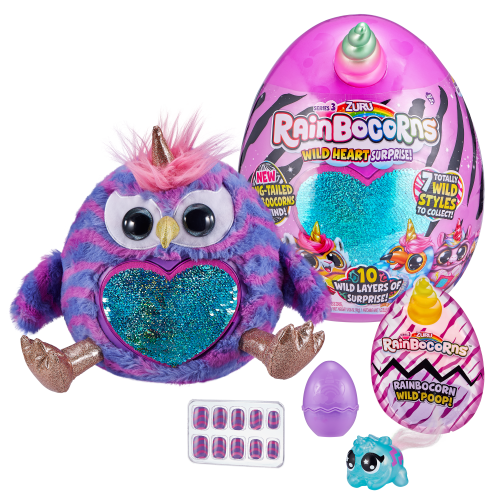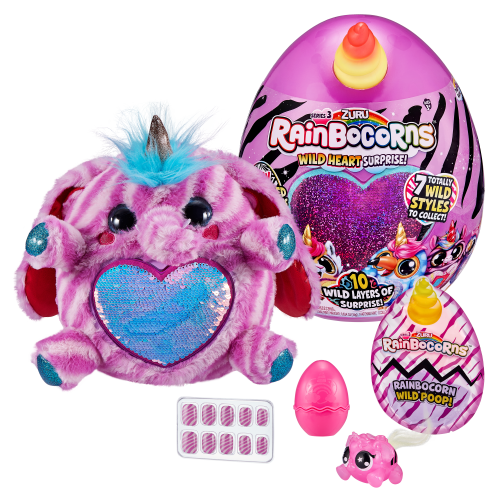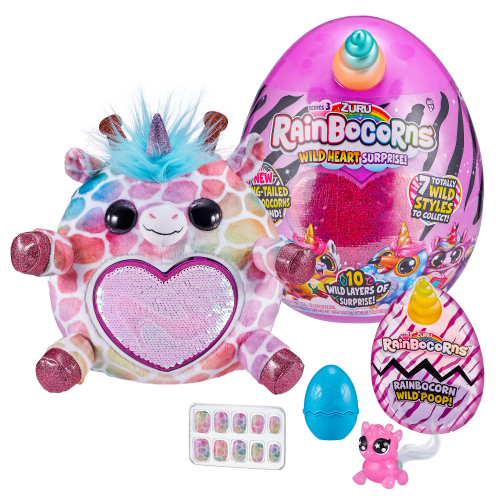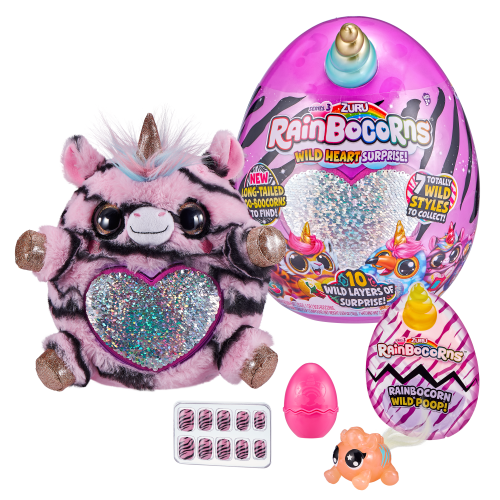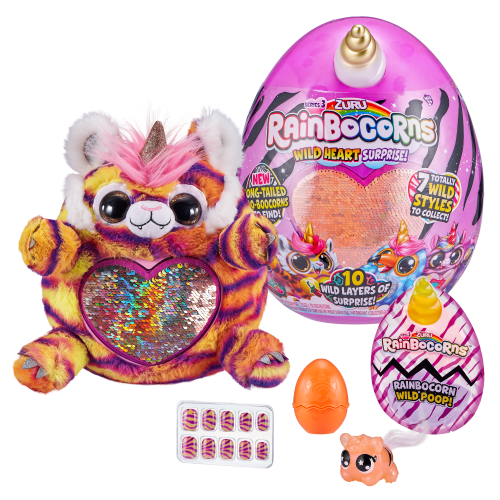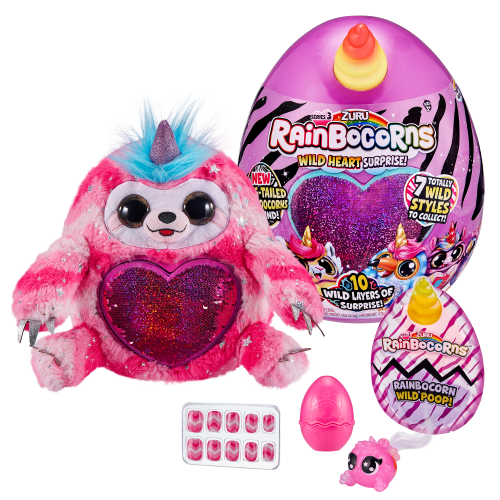 Rainbocorns Wild Heart Surprise Series 3 by ZURU
Rainbocorns Wild Heart Surprise Series 3 are full with totally WILD Surpirses! There are 7 new wild characters to collect including the new Tucancorn, Zebracorn and even a rare sparkle Slothcorn! Discover more wild surprises like nail decals, Rainbocorn wild poop and new long tailed Boo-boocorns! Who will you find??
KEY FEATURES:
• RAINBOCORNS WILD HEART SURPRISE SERIES 3: All new wild and cuddly Rainbocorns to collect! There are 7 characters to find including the Toucancorn, Zebracorn, Giraffecorn, Peacockcorn, Elephantcorn, Tigercorn and the Rare Sparkle Sloth!
• NEW LONG TAILED BOO-BOOCORNS: New Long tailed Boo-Boocorns to find and even rare twins to collect! You can even use your Boo-Boocorn as a pencil topper!
• 10 WILD LAYERS OF SURPRISE: There are so many surprises to collect including new wild nail decals that match the pattern of your Rainbocorn, as well as Rainbocorn Wild Poop!
• PACKAGE INCLUDES: 2 x Eggs, 1 x Rainbocorn, 1 x Sequin Heart, 1 x Boo-Boocorn, 1 x Wild Nail Decals, 1 x Rainbocorn Wild Poop, 1 x Hatching Hint, 1 x Collectors Guide
• RAINBOCORNS WILD HEART SURPIRSE: Hatching new from Rainboville, these Rainbocorns are totally WILD! Combining surprise unboxing with cuddly plush and wild surprises, these Rainbocorns are sure to be your new best friend! Which wild character will you find?!
PACK INCLUDES:
2 x Eggs, 1 x Rainbocorn, 1 x Sequin Heart, 1 x Boo-Boocorn, 1 x Wild Nail Decals, 1 x Rainbocorn Wild Poop, 1 x Hatching Hint, 1 x Collectors Guide
My 6yr old niece loves them she was so excited

Great gift for a kiddo

Good gift for my kiddo. She loved it

Don't understand why kids want these but it made my kid light up

Daughter loves it

My daughter loves it

A great value and a great toy

Granddaughter loved it

Little pricey

Great

Was a great gift

Fun gift

Granddaughter loved this gift

Birthday gift, she loved

What my grandaughter wanted for birthday. She loved it!

Perfect surprise perfect presentation! Love it!

My kids absolutely love these surprise toys!

Series 3. Just what the wanted

My granddaughters couldnt wait to get these, just what they wanted. Series 3

Great Toy

I bought this rainbocorns as a surprise for my nice, she was very happy with it, it wasvery exited to her to see what was inside and when she saw the Unicorn and the slime she was so happy with the gift, the colors are very nice and colored for any kid, and another great thing I can see she can putit away in theegg and this amazing.

If your kids a YouTube fan!

The most exciting thing about these toys are the reveal. It took my 6 year old like 15 minutes to get everything out of the wrapper and she pretended like she was making a YouTube video. It was amazing. I highly recommend!

It's worth the price to see your kids eyes light up with love!!

Alright, so as an adult I was underwhelmed for $25 but my six year old kiddo absolutely loved this toy.She repeatedly says how much she loves it. "I love you Fluffy."She renamed it from Candy to Fluffy. And that is enough for me to give it five stars and totally recommend it. It warmed my heart !The unwrapping process is super fun with amazingly attractive packaging. The actual stuffy is suuuuuper fluffy. There's slime or putty that is the rainbocorn poop. And even fake nails. I'm not really someone who loves nails or make up at all nor on my six year old. But she had fun with it. Easy to apply with glue and easy to take off and reuse. (I was concerned it would hurt or be unsafe for her to use.).

New Surprises

My little girl loved her Rainbocorn. She adored the press on nails it came with and all the surprises.

Favorite Rainbowcorn yet!

My daughter (7) loves these. She got "Candy" the toucan. The slime was neat (and not messy). She said she also got the "twins". The heart on the tummy pips off and can be worn as a hair accessory. Suoer cute and colorful!