We pride ourselves on delivering the
highest quality products that deliver
exceptional play experiences.
We pride ourselves on delivering the
highest quality products that deliver
exceptional play experiences.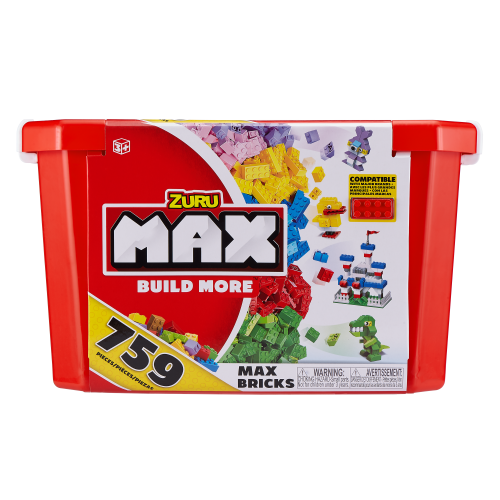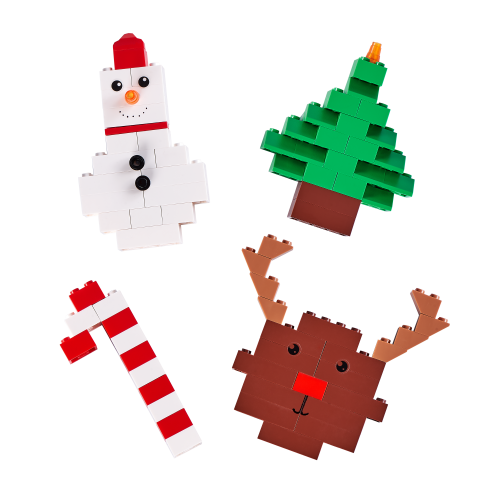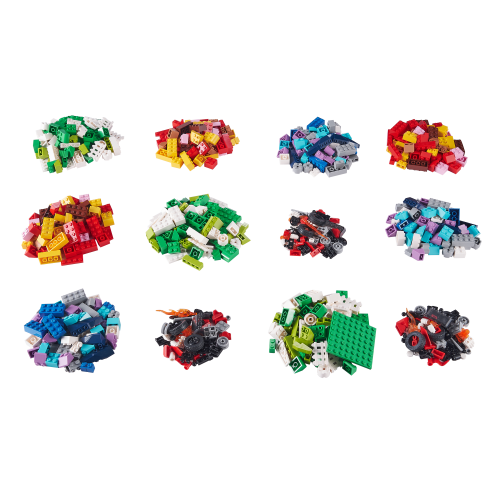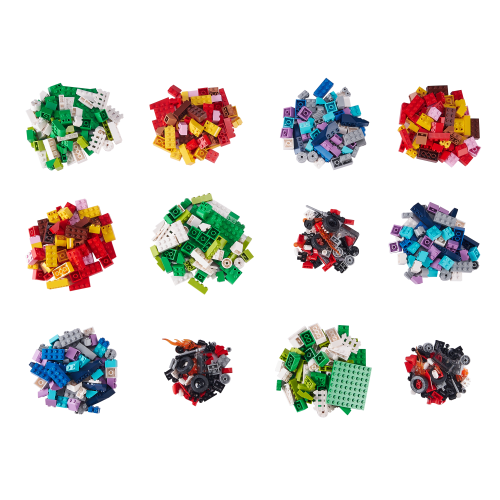 MAX Build More Building Bricks Value Set (759 Bricks) by ZURU - Compatible with Other Major Brands
Take it to the MAX with ZURU MAX Build More - the premium toy construction blocks that rock! MAX is giving you MAX quality at MAX value! Get 759 high quality bricks to create to the MAX! Available in various bulk packs and fully compatible with major building brick brands.
KEY FEATURES:
• DON'T SPEND MORE: Premium but affordable building bricks that allow for more building and more fun! Build More with Max! ZURU Max Build Bricks don't break the bank like other brands do and the Max brick packaging doubles as a bricks storage box.
• GROW CREATIVITY AND PROBLEM SOLVING SKILLS: Max Bulk Brick sets come with a unique Max Ideas booklet to encourage open ended play and imaginative, creative thinking. The booklet includes 20 different characters to build, with the ability to mix and match to let the imagination run wild.
• ADVANCED AND HIGH QUALITY: Bricks perfectly slot together and are fully compatible with all other major brick brands. Various colors, sizes and shapes all found in a convenient MAX Storage Box.
• PACKAGE INCLUDES: 759 x High Quality ZURU MAX Build More Building Brick Pieces; 1 x ZURU MAX Build More Ideas Book; 1 x ZURU MAX Build More Storage Box.
• BUILD MORE WITH MAX: Max Quality and Max Value: With Max Bricks, you can Build More by Inspiring Creative and Open-Ended Play. Max has the Same Quality as other brick brands but with MAX Savings!
PACK INCLUDES:
759x High QualIty ZURU MAX Build More Building Brick Pieces; 1x ZURU MAX Build More Ideas Book; 1x ZURU MAX Build More Storage Box
Not Legos, don't stay together

While you can make lots of interesting things most of the items won't hold together. These are not like legos, they have no sticking power. Very disappointing.

I'd buy again.

Not a bad set for the price my 9 year old loves them but the pieces don't always like to stay together.

Surprised me! Good bricks!

I was weary about buying these because most lego clones are cheap quality trash. But i figured i could risk it for $20. Surprisingly, these are nearly indistinguishable from actual lego bricks. I honestly can't tell the difference in the smaller more special bricks that dont have logos stamped on them. They connect and work well with my actual lego bricks. For half the price, these are amazing. I'll be buying more.

bought this as an Xmas present and I like how there are lots of different animals to make but after they're made they don't seem to stand up to young children's exuberance. I made this 4 times for my child to play with but each time the feet or head would break off. This is not for 3 year olds unfortunately.

A great value blocks. Definitely worth it. Also a lot cheaper than Lego brand. I'd buy again.

No complaints

Good overall value and quality

Good buy

Interchangable with more expensive brands. Large assortment.

Great toy!

Awesome! My son loves them :)

Hope they are priced more affordable latter

Must buy; indistinguishable from LEGO

I am a bargain shopper but also a quality shopper. I did a lot of research on this item and found that it is indistinguishable from LEGO. I looked up a LEGO set of around 750 pieces and found it on sale for $43.99. That's more than half the price of this. For what? The name? Because in this case the name is all that you are paying for. Go with this one, you won't regret it and your wallet will thank you.

Great price, great bricks.

Some pieces are a bit tiny but a great deal for the price. Kids love them.

worth the money absolutely great value and way much cheaper the legos

Make sure there put up properly

Great value and the kids love them make sure they krep them put up there are little pickett fence pieces i stepped on one and it went through my foot besides that great buy

You Definitely get more than your money's worth.