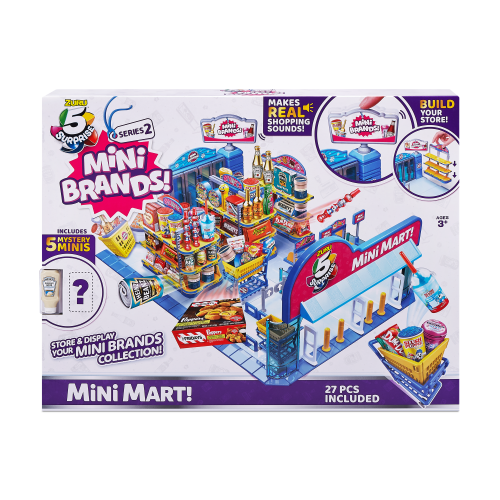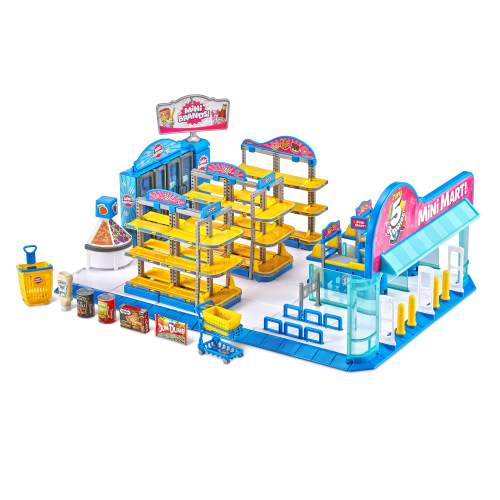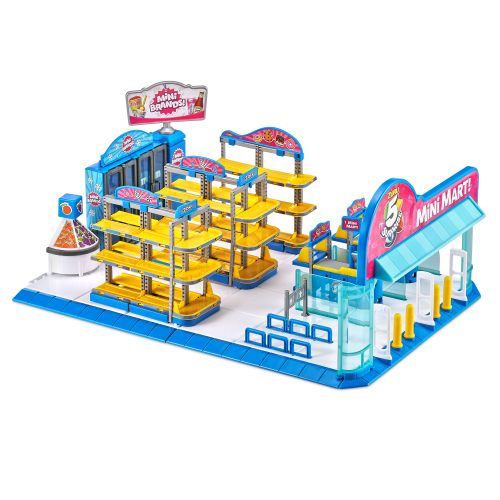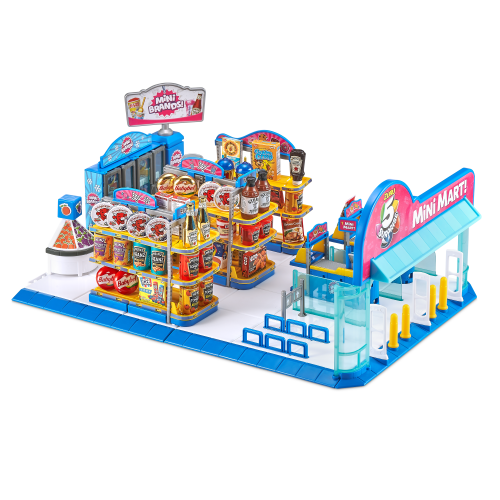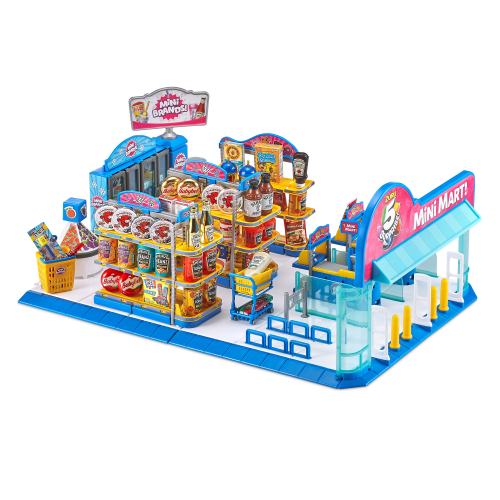 5 Surprise Mini Brands Global Series 2 Mini Mart
5 Surprise Mini Brands Mini Mart is the ultimate way to store and display your mini brands collection, by making your very own little shopping world! Collect more mini brands capsules to add more accessories and minis to your collection!
KEY FEATURES:
• STORE & COLLECT ALL YOUR MINI BRANDS: What better way to display your collection of real mini brands than in a mini shopping world? Unbox 5 minis with the mart, then collect more capsules to add minis to your shelves!
• UNBOX, BUILD & CUSTOMIZE: Build up your mini mart including store front, 5 shelves, 1 cash register, and 2 accessories, then customize it by collecting more shelves, cash registers and accessories in 5 Surprise Mini Brands capsules to expand your mart! Mini Brands capsules sold seperately.
• COME WITH 5 MYSTERY MINIS: Every Mini Mart comes with 4 mystery minis to start stacking your shelves.
• CREATE A MINI SHOPPING WORLD: Build out your mini mart, fill your shelves with mini brands collectables, pack your cart and push your trolley through the aisles as you pack and shop over 100 real mini brands
• Tap the Mini Mart sign for real Mini Mart sounds as you shop, creating a real shopping atmosphere!
PACK INCLUDES:
Each Mini Mart includes 27 pieces to build your own little shopping world, including base plate, storefront, shelves, freezer, cash register, electronic features with real shopping sounds and 5 mystery minis!
Great product for my Great Greatgdaughter

Fun to build it and then play with, kids love it!!

it purposely did not include an entire shelf, and everything is very frustrating. It is definitely not as advertised!

My nana bought me this at WalMart and it was hard to build and one of the freezer doors was the same as the other one!but it was so Hard that I could not finish super disappointed.

All the racking (shelving) on the box isn't included and I'm having a hard time buying more. Other than that, really cool

My daughter loved this as much as I did. She collects the mini brands so this was a must have at our house. Besides the millions of pieces we had to put together in this toy was perfect and at a low price.

This is a really cool display. The only thing I would change, would be that the scale of the store be larger, to fit the mini brands toys.

My kids love it. Not too difficult to put it together.

Bought for a gift, loved it!

Very well liked.

Fun game

Buyer beware you have to assemble every piece and pay attention bc there are not all items on the box front. Only some shelves.

They will be fun for years.

Giftable

I got this for my daughter and she absolutely loved it!! I didn't check the reviews before we ordered it and if I had, I probably wouldn't have bought this product, but it was worth it! It is true that it's a little bit of false advertising, but she had such a blast putting the thing together that that made it worth the money on its own. It is delicate so be careful when putting together and the directions can be confusing so take your time.