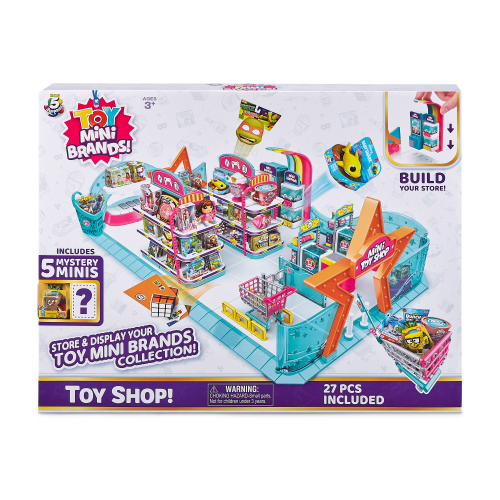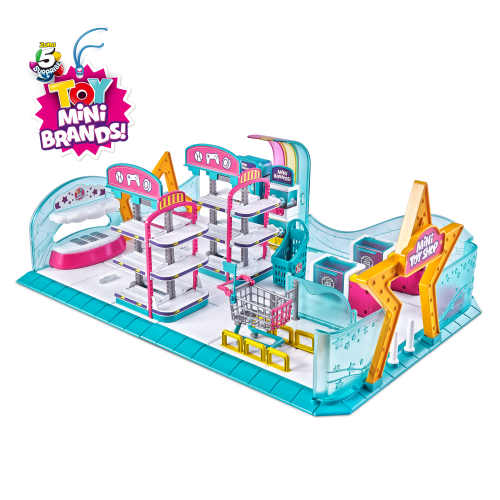 5 Surprise Toy Mini Brands Mini Toy Shop Playset by ZURU
Unbox, build, store and display your Toy Mini Brands with the Mini Toy Shop Playset! Build your own little shopping world including shelves, displays, cash registers and more. You can even find 5 mystery minis included!
KEY FEATURES:
• Collect, Display & Play! What better way to display your collection of Toy Mini Brands than in a Mini Toy Shop? Unbox 5 minis with the shop, then collect more 5 Surprise capsules to add minis to your shelves and bring your Toy Shop to life!
• Come with 5 Mystery Minis: Unbox 5 surprise Toy Mini Brands in every Toy Shop, you can even find exclusive rares too!
• Perfect for Role Play: Build up your shop, stack the shelves, push the trolleys down the aisles before you check out with your new toys. This toy store is perfect for role play or doll play too!
• Over 120 Toy Mini Brands to collect: Build the ultimate collection of Toy Mini Brands by collecting the common, rare, and super rare miniatures of your favorite brands. How many will you find?
• Your favorite brands made mini: Find ultra-realistic miniatures of brands like Rubik's Cube, Frisbee, Nickelodeon and more!
PACK INCLUDES:
5 Mystery Toy Mini Brands, 1 Base Plate, 1 Side Wall, 1 Play Station with Piano Display, 1 Toy Shop Entrance, 6 Shelves, 2 Shelf Connectors, 2 Cash Registers, 1 Trolley, 1 Basket with Wheels, 1 Claw Machine, 2 Capsule Bins, 1 Set Sticker Decals, 1 Instruction Manual, 1 Collector's Guide
Cute product. Instructions were easy enough. This is definitely a toy that needs an adult to put together. So. Many. Pieces. And the stickers ?.Your child will like it. You…not so much.

Cute, but the box did not include all the pieces to put the little shelves together and one piece was "incomplete"

Granddaughter loved it.

Christmas gift for 9 yr old granddaughter who loves mini brands and lol dolls. She saw it in a catalog and wanted it. It seems pretty sturdy.

Very cute to hold all the mini toys

It is a gift for Christmas

This was one of the must haves on my daughters Christmas list. She's going to be one happy girl! I ordered it back in October and it shipped in the time frame stated and was exactly as described.

She loves little things! These are perfect!