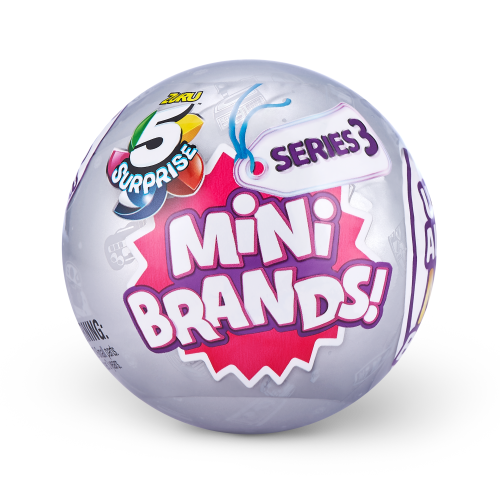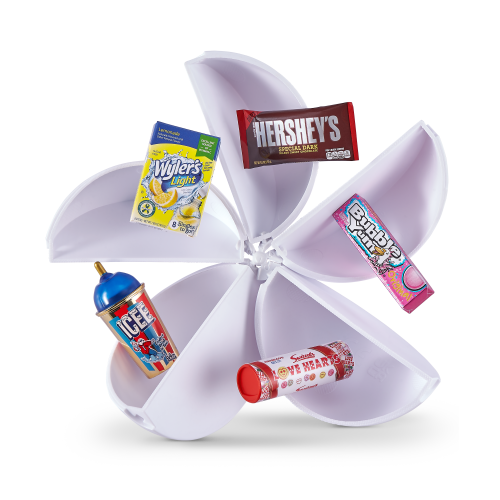 5 Surprise Mini Brands Series 3 Mystery Capsule Real Miniature Brands Collectible Toy by Zuru
Mini Brands Series 3 is making even more of your favorite brands mini! Unwrap, peel and reveal REAL miniature collectibles of iconic and loved brands like Teddy Grahams, Hershey's Chocolate, Icee Slushies and so much more! There are over 100 Series 3 including rare, super rare and even ULTRA rare miniatures to collect, what will you unbox?
KEY FEATURES:
• REAL SHOPPING BRANDS THAT FIT IN YOUR HANDS!: Unbox perfect replicas of the brands you know and love, even the barcodes are perfect matches as well!
• SERIES 3 FEATURES ALL NEW BRANDS MADE MINI!: We've turned our shrink ray to iconic brands like Hershey's Chocolate Sauce, Jolly Rancher Candy, Icee Slushies and Otter Pops too. Find 100+ brands in Series, will you collect them all?
• UNBOX RARE MINIS TOO: Unbox to find rare Glow in the Dark and Metallic versions, or even Super Rare Golden Mini Brands too. Series 3 even features never-before-seen ULTRA rare Mini Brands too!
• UNBOX MINI ACCESSORIES FOR THE PERFECT MINI SHOPPING WORLD: You can even find mini shopping accessories like trolleys, baskets and scanners for the ultimate roleplay of your own mini shopping world.
• COLLECT THEM ALL: Tick off your Mini Brands on the Collector's Guide shopping list as you get more, will you finish the ultimate collection?
PACK INCLUDES:
Each capsule includes up to 5 real surprise miniature collectibles or 4 miniatures and a surprise shopping accessory.
This are a hit came with so many cool ones

Big hit with our 11 and 8 year olds. Product was as described. Would recommend

Good tot

My son loves these mini-brands. Great condition! Arrived fast!

my daughters have loved these since they came out. super cute collectors items

Made my 6 and 8 yr old granddaughters very happy

My daughter loved it. Just as pictured. This is a great small gift.

Good item

I couldn't find an advent calendar for my 11 year old. She loves mini brands, so I purchased 6 circles (about the same amount of money I would spend on an advent calendar) and she gets to open one wedge each day until Christmas and I have an extra egg for her stocking! She's super happy and it's so fun to see what mini she gets each morning.

I like miniature things of stuff I know. Great value.

A great value

So cute and tiny (that's what she said)

I love them. I glue mini magnets on them and stick them on my fridge.. they are just so dang cute ?

Definitely giftable and value for the money but the girls enjoy it

I have not seen the mystery capsule yet. It is a Christmas gift for my granddaughter. She requested it on her Christmas list!