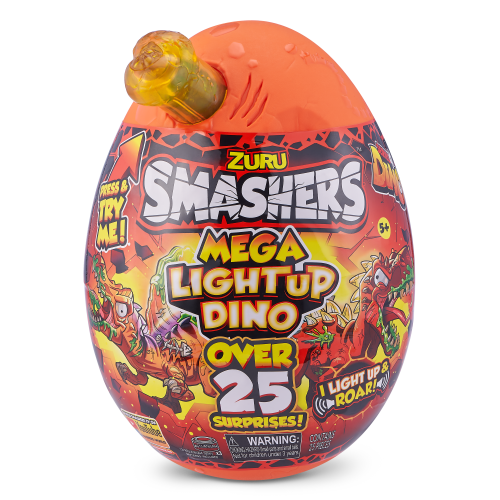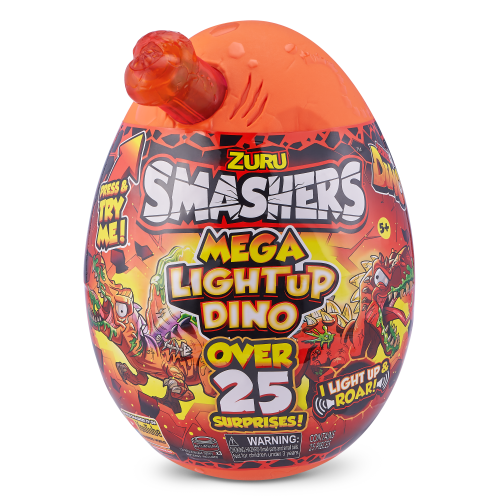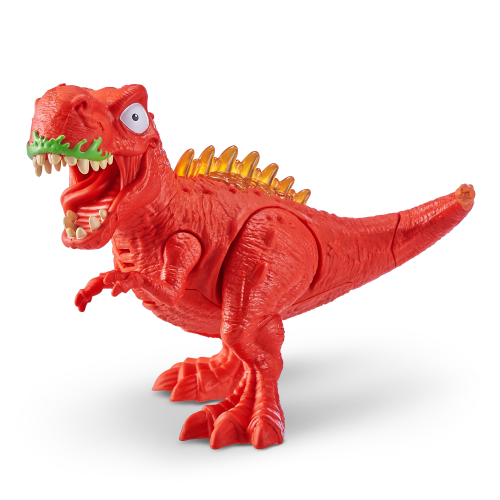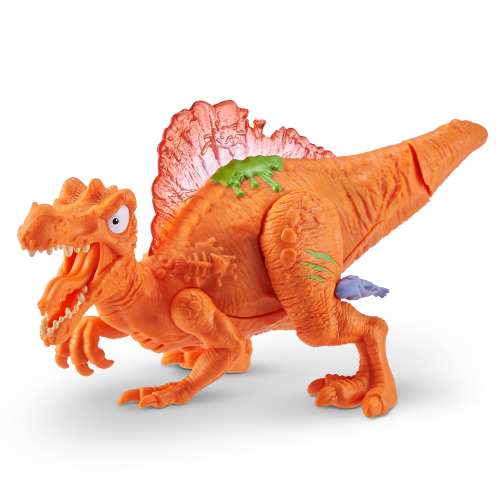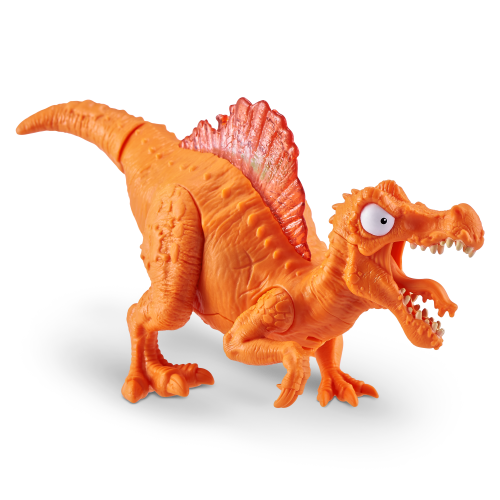 Smashers Leuchtender Mega-Dino (mit mehr als 25 Überraschungen!) von ZURU
SMASHERS MEGA LIGHT UP SURPRISE EGG: Slime, fizz and SMASH your way through over 25 lava volcano surprises and build the ultimate Dino SMASH-O-SAUR! Use the volcano Scratch Map to excavate the fossil rock, lava slime, dino sand and Smash Eggs and start collecting your Dino Light Up Smashers collection today!
KEY FEATURES:
• SMASH IT OPEN: Smash open the NEW Smashers Mega Light Up Dino to discover the 25 surprises inside. Collect all of the pieces to start building either the Dino T-REX or Spinosaurus.
• SCRATCH & FIND HIDDEN CLUES: Use the official Dino Light Up Scratch Map to find all of the hidden pieces inside. Collect compounds like the Fossil Rock, Lava Slime & More!
• EXCAVATE ALL NEW SURPRISES: Over 25 lava surprises to slime, fizz and smash your way through. Find the parts to one of two Dinos, and build your T-Rex or Spinosaurus!
• ROARING PLAY: Insert the Dino DNA into the Dino SMASH-O-SAUR and flick the tail of the Dino to activate the Dino noise and sound.
• COLLECT AND BATTLE: Collect the Smashers Eggs and create the most epic fight between your lava Dinos! Who will win?
PACK INCLUDES:
1 x Light Up SMASH-O-SAUR Dino, 1 x Dino Egg Yolk Bag, 1 x Scratch N'find Map, 5 x compounds, 6 x Smash Eggs with 6 surprise characters, 1x Digging tool
© 2022 ZURU Inc. All rights reserved
english
Please select your birthday.
By subscribe to receive emails from ZURU, you agree that we may use your personal information provided by you to send you marketing emails. You can opt out these emails any time by clicking the unsubscribe link or by contacting us. To see how to control your personal data, please see our Privacy Policy and Terms of Use
.
By subscribe to receive emails from ZURU, you agree that we may use your personal information provided by you to send you marketing emails. You can opt out these emails any time by clicking the unsubscribe link or by contacting us. To see how to control your personal data, please see our Privacy Policy and Terms of Use
.
Many of our toys are shaped by the creative minds of dreamers and innovators from all over the world. We welcome new ideas and cherish new relationships with inventors like you! Do you think you have a groundbreaking, unique toy idea for ZURU? We would love to here from you!
Please select your birthday.
By subscribe to receive emails from ZURU, you agree that we may use your personal information provided by you to send you marketing emails. You can opt out these emails any time by clicking the unsubscribe link or by contacting us. To see how to control your personal data, please see our Privacy Policy and Terms of Use
.
By subscribe to receive emails from ZURU, you agree that we may use your personal information provided by you to send you marketing emails. You can opt out these emails any time by clicking the unsubscribe link or by contacting us. To see how to control your personal data, please see our Privacy Policy and Terms of Use
.
Product Name
Required fields are marked with *
Overall Rating *
Click to rate!
Would you recommend this product to a friend?
Did you read product reviews online before first purchasing this item?
Where did you purchase the product?
Did you purchase this product for yourself or a gift for someone else?
You may receive email regarding this submission. Any emails will include the ability to opt-out of future communications.