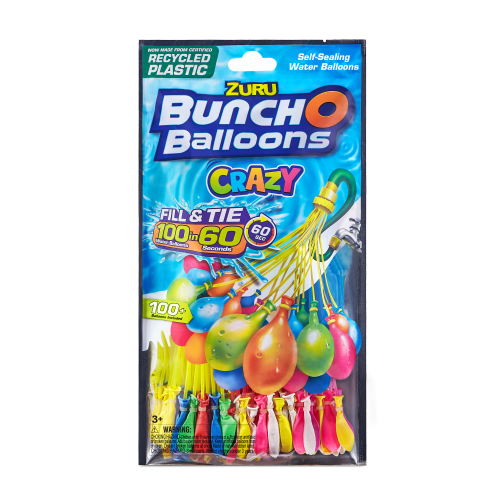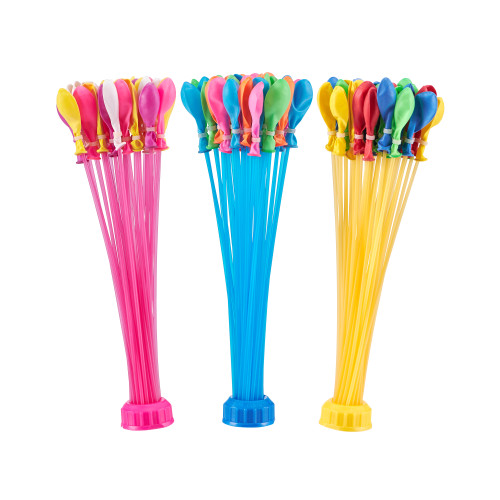 Crazy Bunch O Balloons 100 Rapid-Filling Self-Sealing Water Balloons (3 Pack) by ZURU
Fill your water balloon battles with a spark of colour with the craziest, most wacky water balloons ever! Crazy Bunch O Balloons! Fill and Tie 100 Crazy water balloons in less than 60 seconds with these sensational self-tying Crazy water balloons! With innovative O-Ring technology and Rapid Fill capabilities, say goodbye to the stress and mess of filling individual water balloons and say hello to never ending splash out loud fun! Simply connect, fill and make hundreds of water balloons with no hand-tying.
KEY FEATURES:
• QUICK-FILL: Unleash fun with speed & ease this summer with Bunch O Balloons; Fill & Tie 100 Water Balloons in 60 Seconds. Simply attach the stem to a hose, fill them big & shake to make hundreds of Water Balloons in seconds. Yup, it really is that easy!
• NO MORE TYING: Bunch O Balloons patented O-ring technology means there is no tying necessary. These innovative Water Balloons Self-Seal, leaving you more time to play! Fill your water balloon battles with a spark of colour with the craziest, most wacky water balloons ever! Crazy Bunch O Balloons!
• SUSTAINABILITY: Bunch O Balloons stems and caps are now made from 100% certified and traceable, recycled plastic. The balloons pieces are made from 'natural rubber', a material derived from plants! Join us in unleashing a more sustainable summer.
• PACKAGE INCLUDES: 3 x Bunch O Balloons crazy coloured stems (100 x Water Balloons)
• BUNCH O BALLOONS PROMISE: Unleash Summer Fun with the speed and ease; Fill and Tie 100 water balloons in 60 seconds!
PACK INCLUDES:
3 x Crazy Bunch O Balloons
(100 Crazy Water Balloons)
Was a little disappointed because what I recieved was not what I thought I was buying. Picture shows a variety of colors, that's why we picked these over the other options. Bought for my daughter and she picked them out

Worth it!

As long as I don't have to tie endless amounts of water balloons, I'll gladly pay $8 or more!

The kids enjoy these balloons in the summer and I enjoy not filling and tying each individual balloon. These packs are good to keep on hand for a hot day or in the camper for when the kids want to play with water while camping. They are easy to fill and fun to play with.

Fun and sturdy

These were just what we expected. Some popped while being filled, but for the most part they held up well and we had a lot of fun with them.

A summer staple for every child. Worth the price

Easy to use and so much fun!

Definitely the only way to go rather than filling individually and taking forever to tie. I just wish they were not as pricy.

They were lots of fun and easy to fill up. However several of them popped the minute they touched a surface, even if it was a flat smooth surface.

The description was a bit confusing. Price way too high for just 100 balloons.

Such a time saver!!

So easy to fill. Kids loved them!!

The kids loved them But I think they are to expensive

We had a blast with these and are so easy to fill

Summer Fun

Bought this to add to the fun I was sending to my grandsons! They had a lot of fun!

So much fun and easy to fill balloons.

These need to be filled slowly or would break but other than that they were so much fun

Great buy

Got them for my kids and they had a blast. Super easy to blow up. Definitely buying more.