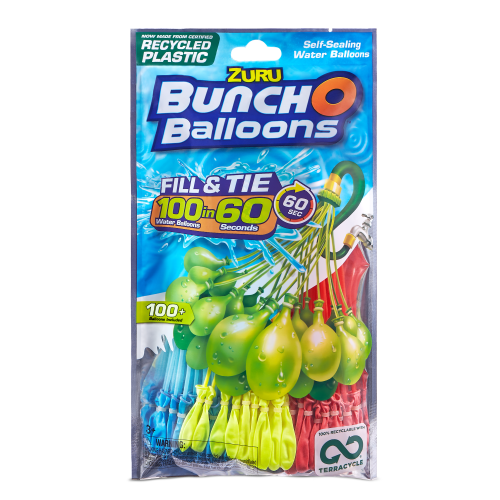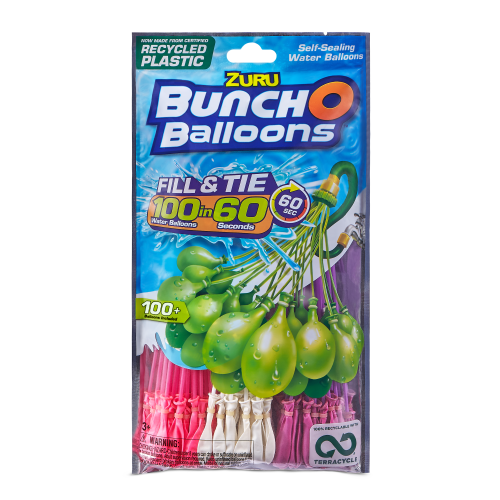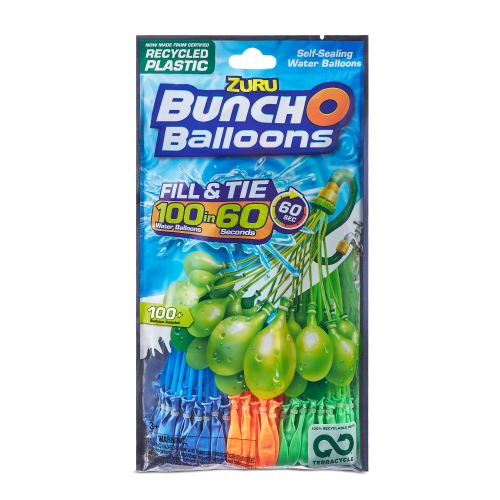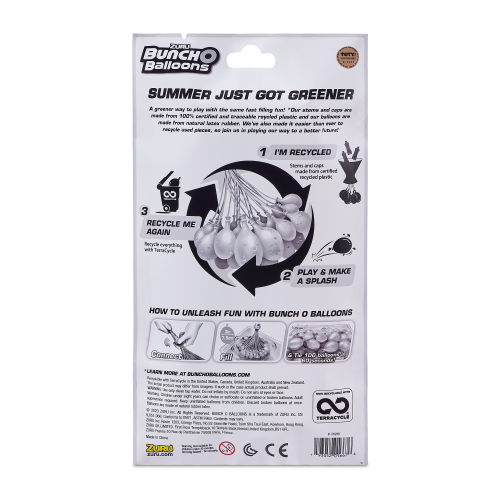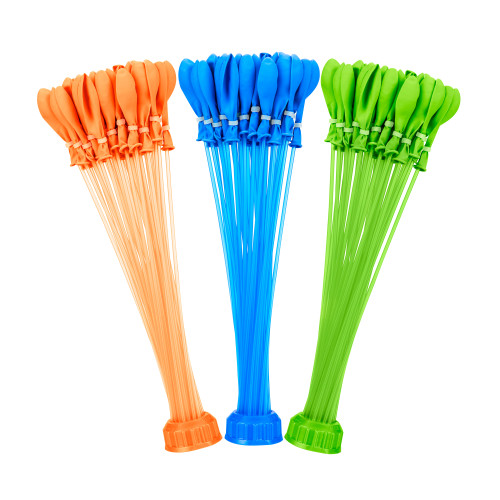 Bunch O Balloons 100 Rapid-Filling Self-Sealing Water Balloons (3 Pack) by ZURU
Fill and Tie 100 water balloons in less than 60 seconds with these sensational self-tying water balloons! With innovative O-Ring technology and Rapid Fill capabilities, say goodbye to the stress and mess of filling individual water balloons and say hello to never ending splash out loud fun! Simply connect, fill and make hundreds of water balloons with no hand-tying.
KEY FEATURES:
• QUICK-FILL: Unleash fun with speed & ease this summer with Bunch O Balloons; Fill & Tie 100 Water Balloons in 60 Seconds. Simply attach the stem to a hose, fill them big & shake to make hundreds of Water Balloons in seconds. Yup, it really is that easy!
• NO MORE TYING: Bunch O Balloons patented O-ring technology means there is no tying necessary. These innovative Water Balloons Self-Seal, leaving you more time to play! Award-Winning Outdoor Toy of the Year in both 2017 and 2018 as well as 2020's NAPA Seal winner.
• SUSTAINABILITY: Bunch O Balloons stems and caps are now made from 100% certified and traceable, recycled plastic. The balloons pieces are made from 'natural rubber', a material derived from plants. All of the Bunch O Balloons pieces, including packaging can be recycled for free, through our partnership with TerraCycle.
• PACKAGE INCLUDES: 3 x Bunch O Balloons stems (100 x Water Balloons)
• BUNCH O BALLOONS PROMISE: Unleash Summer Fun with the speed and ease; Fill and Tie 100 water balloons in 60 seconds!
PACK INCLUDES:
3 x Bunch O Balloons
(100 x Water Balloons)
Fun as long as aiming at feet or playing catchCould be dangerous with someone agressive

Loved this product !

Easy to use and fun for everyone

Easy to use, hook a hose up and tons of balloons ready in minutes!

The days of spending an hour filling 20 water balloons are over. Never again! Although much more pricy, buying these are soo worth it. Just attach to the hose, turn it on, watch them fill and then give a shake to drop them in a bucket. All done within seconds!

Great just fill them all the way up

There are many small pieces of balloon to pick up. Another activity for the kids to do. ?

Used for a birthday party this got everyone doing water balloons for a hour!

Easy way for the kiddos to have fun and stay cool!

We love these

Easy to use

Where were these when I was a kid?! My kids love them and they make great gifts too.

Some of the balloons leaked a bit, but it was easy to fill them up and the kids had fun.

Balloon fight

What a great idea for a cooling off in the summertime the kids enjoyed them!