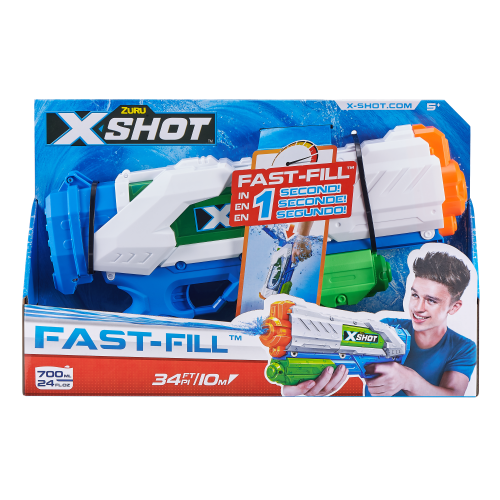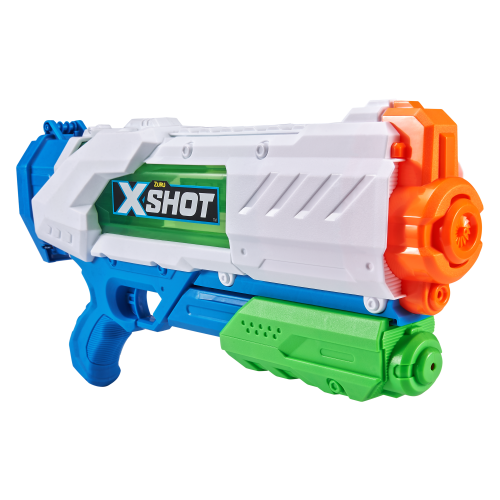 X-Shot Water Warfare Fast-Fill Water Blaster by ZURU
X-SHOT Fast-Fill allows you to refill your blaster in 1 second and get back to the water blasting action long before your opponents. Just dunk, fill and close with rapid sealing technology. It shoots up to 30ft/10m and you can fill it anywhere. Because a Fast-Fill is everything. Up Your Game!
KEY FEATURES:
• FAST-FILL: X-SHOT Fast-Fill is the fastest filling water blaster ever created. The Fast-Fill allows you to refill in 1 second and get back to the water blasting action long before your opponents. Just dunk, fill and close with our rapid seal technology, allowing you to beat your opponent's fill-time so you can get back in the action!
• WATER-PUMP ACTION: X-Shot Water's Fast-Fill Blast water up to 30ft/10m meters- leaving your opponents drenched from a distance, to help you win the water fight. So sneak up and give the competition a surprise blastage!
• WATER CAPACITY: Our X-Shot Fast Fill can hold a lot of water in the tank! 700 ml/ 24 fl OZ. of water can fit inside the blaster, leaving you more time to play and less time to re-fill!
• PACKAGE INCLUDES: 1x X-Shot Water Pressure Jet Water Blaster by ZURU.
• X-SHOT PROMISE: Our mission is to deliver value to our fans worldwide. Our 'UP YOUR GAME' promise is to provide a combination of design excellence, market leading quality and unbeatable prices.
PACK INCLUDES:
1x X-Shot Fast-Fill Water Blaster
Fast and easy to use. Shoots a good amount of water at a time. My 5 and 9 year old loves them. Had to buy a couple more after the fact.

These things are great. Perfect size, workable action for 6+ yr olds, and the fast fill feature is priceless.

It is easy and fast to fill water. Children like it very much. It is a good toy for summer

great product

This works great. I bought it to harass the turkey that insists on going after my feeders...She's relentless but she doesn't like the water!LikesSturdinessConstructionDurabilityFor familiesFor kids

Great fun for the price. The trigger is not functional BIG DEAL, it works better without a trigger. If you want a trigger gun then go to the dollar store. These are good quality and filling is super easy and fast. This is the way to go.

It's very good quality water gun!I have ordered 2 items for me and my son ?

This thing reloads fast great fun with kids and adults. Had a few fun summer water battles so far.

Perfect Water Blaster for these Hot Days

My grandsons ripped open these water blasters and got busy squirting each other in minutes.. they lovvveee them!! They came well packaged so they arrived in perfect condition, which is major for online ordering plus they are exactly as described. Your little ones will enjoy blasting away anyone who gets in their path!LikesFor familiesConceptConstructionEase of useFor adults

This is a very sturdy water gun! I love that you can fill it up with water from the back of the gun. The compartment at the back isn't flimsy so clicks when you close it after you fill it up with water.

Might be to strong for little onesLikesFor kidsValue for moneyConstructionQualityConcept

Great water gun.

Very cool water gun. Powerful and shoot water far.

This was the best water gun ever. Easy to fill sturdy and fits perfectly in your hand. Very durable. Used it at a family birthday splash amd it held up fantastically.LikesDurabilityConstructionFor adultsSturdinessFor familiesSizeFor kidsConceptMaterialValue for moneyEase of useAs a giftFunQualityWater gun

Fun Water Blaster

It took me a few minutes to figure out that I had to pull back on the green piece and not the trigger...lol. I'm truly not sure about the durability because I've only used it twice so far. The water stream shoots approx. 20 ft. and it does fill up quick for added fun! I liked the added bonus of free shipping that was offered with this purchase too!LikesConstructionFunFor familiesDurabilityEase of use

A lot of water in a short time.

Ease of operating. We had a lot of black birds taking over our bird feeders. The blue jays could take care of themselves. The smaller birds could not. The spray stream would go 30 foot and I could spray at the blackbirds and not have to hit them. They caught on fast and now we see one once in a while. We did not want to hurt them and this was very helpful to let them know we did not want them. It would be good in a water fight, just don't aim for the head.LikesConstructionEase of use

Chicken's Beware!

Chicken Soaker. Keeps my birds out of my front yard....