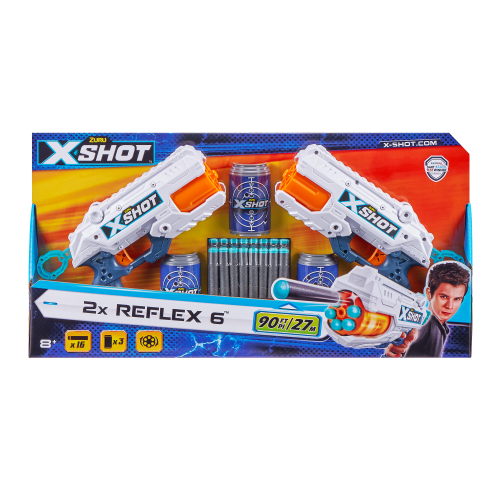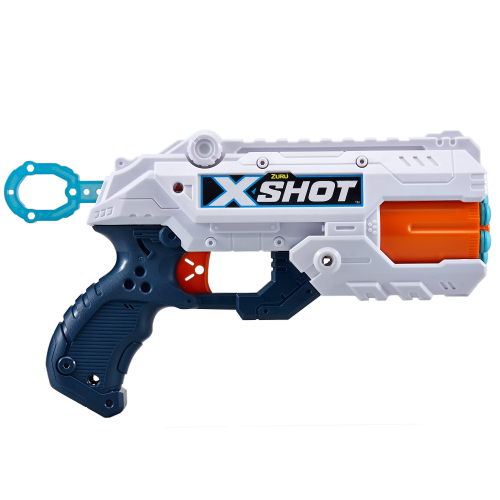 X-Shot Excel Double Reflex 6 Foam Dart Blaster Combo Pack (16 Darts 3 Cans) by ZURU
The X-Shot Reflex 6 allows you to blast 6 darts in quick succession thanks to its rotating barrel! Hit targets from up to 27 meters / 90 feet with total accuracy!
KEY FEATURES:
• REFLEX 6: Shoots Up to 90ft/17m
• DART CAPACITY: 6-Dart Rotating Barrel
• AWARD-WINNING AERODYNAMIC DART: Dart-Range Award Winner
PACK INCLUDES:
2x Reflex 6
3x Cans
16x Darts
My daughter really like it , it has very hard shot and very fast 5.0 out of 5 stars Sturdy By Pezhman on August 20, 2021 My daughter really like it , it has very hard shot and very fast Images in this review

They shot fairly far and haven't broken after more than a few uses. Overall happy with them.

Easy for my grandkids to pull and load

Great fun! The kids and adults alike are having fun. I like the small lightweight gun and the cooking mechanism is easy to pull back for small kids.

This gun is better than the nerf gun that is similar to this.

My kids saw some friends with these and thought they were fun. We got two sets (total of 4 blasters) for valentines gifts. Our kids love them! We have "wars" several nights per week and it never really gets old! Great for building family memories! I definitely recommend getting a pack of 200-300 darts so the fun lasts longer!

es bueno

Just as good as nerf guns! I read quite a few articles and these were listed as something a 3-4 yr old could work by themselves so I bought them for my 3 yr old grandson. He still needs help pulling it back but he's done it more than once on his own- score! He feels like he's a part of the 'big boys' and soon he'll be pulling the trigger on his own!

Toys R Us cost twice as much for the same set.

Going to have some fun with these

Good quality for money paid

These are good guns for inside or short range outside. We use them inside mostly. Definitely recommended.

We love the guns, much easier than nerf guns...but we only received 3 cans and not 6 cans. Very disappointed

Little hard to pull back for a 2/3 year old. But great for the price! Will put up until he's a little bigger

After spending big bucks on another brand of foam dart blasters, I grabbed this 2 pack to put in my in laws' Christmas stockings for a Christmas morning battle royale. Let me tell you, they were the best armed people in the house! These were so fun, easy to use, and fantastic value. We are X Shot fans for good!