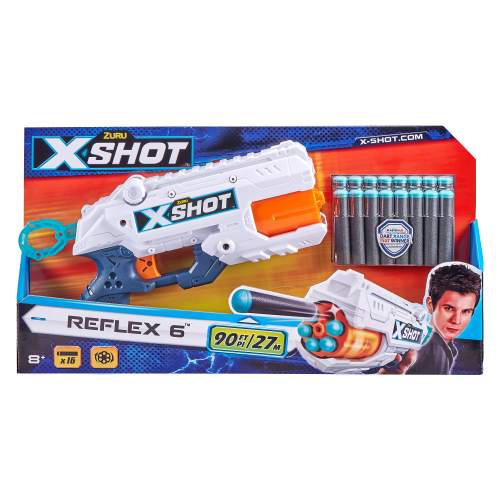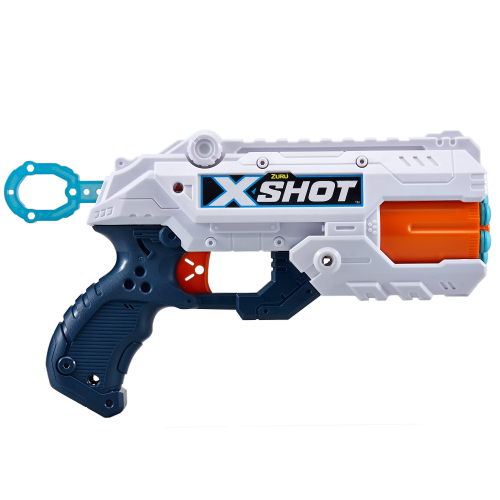 X-Shot Excel Reflex 6 Foam Dart Blaster Combo Pack (16 Darts) by ZURU
Blast without hesitation with the Reflex 6! The rotating barrel loads and fires 6 darts within 30 seconds. Unstoppable speed and frequency! Prime, lock 'n' load to fire from over 90ft!
KEY FEATURES:
• REFLEX 6: Shoots Up to 90ft/27m
• DART CAPACITY: 6-Dart Rotating Barrel
• AWARD-WINNING AERODYNAMIC DART: Dart-Range Award Winner
PACK INCLUDES:
1x Reflex 6
16x Darts
They shot fairly far and haven't broken after more than a few uses. Overall happy with them.

Easy for my grandkids to pull and load

Great fun! The kids and adults alike are having fun. I like the small lightweight gun and the cooking mechanism is easy to pull back for small kids.

Cool things

When first time my nephew mentions this double kickback dart blaster for his 10th birthday I was so confused , so I did look online what was available to order quickly and I can't believe how fast Walmart deliver this to my door so I can warp it and bring it to the birthday party onetime. He was so happy to receive it and can't stop talking how cool it is that he can play with his 8 yrs old brother.

Endless fun

My boys love this set! We have three kids, so this was perfect bc they could each have their own gun, and even an extra! It comes with plenty of amo, and the barrel can hold several foam bullets. My boys say the guns even have a kickback. They cant wait to have an xshot battle with friends! P.S. it came in a huge box, so it would make an awesome memorable gift too

Lots of fun for multiple players

My daughter is addicted to the X Shots and loves shooting down the cans. My husband is also loving playing with these so this multiplayer version is getting lots of playing time.

This gun is better than the nerf gun that is similar to this.

Great for kids

We had so much fun with these! We had a party for the kids and they all the kids enjoyed the different sizes. They are all easy to use and are a good size for kids. They shoot straight and are really fun for shooting the targets. And there are so many darts so you don't have to worry about running out.

Great toys

I am never disappointed with the quality of toys of the zuru brand. Amazing toy my son loves it. Its huge comes with several guns and accessories easy to use and put together. Highly recommended brand and toy

Great deal and Quality

Got it as a present for my son and now its a toy that my hubby and son play with all the time against me! Its a lot of fun love the quality.

My kids saw some friends with these and thought they were fun. We got two sets (total of 4 blasters) for valentines gifts. Our kids love them! We have "wars" several nights per week and it never really gets old! Great for building family memories! I definitely recommend getting a pack of 200-300 darts so the fun lasts longer!

es bueno

Great combo package

The package includes 4 blasters and 4 dozens of darts and they're easy for kids to play with. It's easy to hold and aim for younger kids as well as teenagers. This package is good for parties and bigger families. My kids have been playing these for hours everyday ever since we got this package. Highly recommended.

Fun for everyone!!

This is a great gift idea or if your interested in having fun yourself. We got this to have a dart party outside with our kids since we have been stuck in the house. So much fun and the set is great. Came with plenty of ammo and even my teenager loved it.

Beginner Pack

4 Blaster, included 3 target and darts are included. Great for a beginner/samples pack for sure.