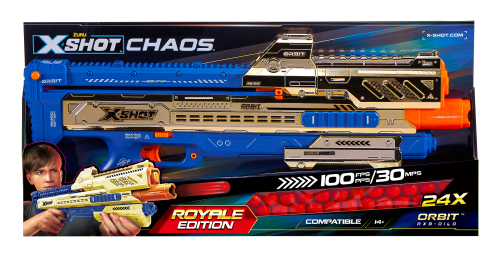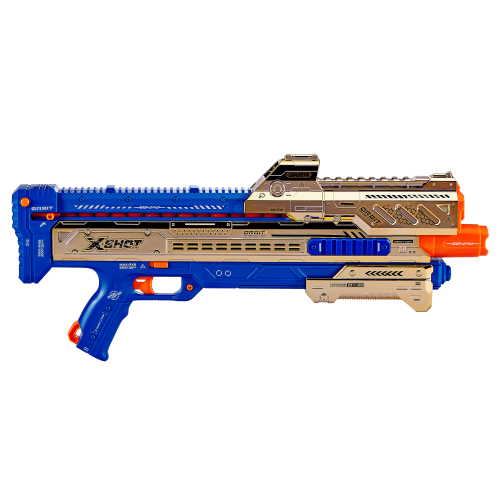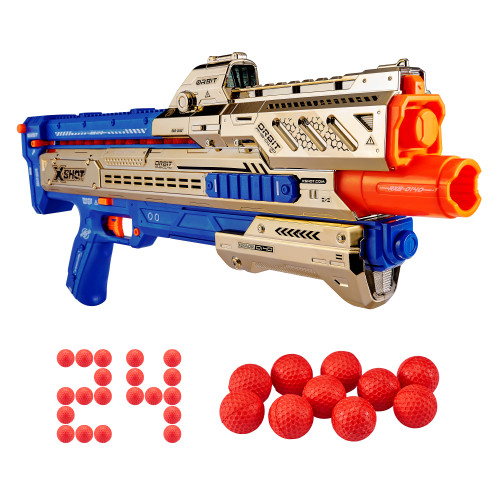 X-Shot Chaos Royale Edition Orbit Round Blaster (24 Rounds) by ZURU
The Chaos Royale Edition is finally here with an epic golden blaster. The heavy duty Royale Edition Orbit blaster delivers maximum performance and accuracy. It holds 14 maximum performance rounds and includes 24 rounds in the pack. Enjoy round-blaster fun at its best with X-Shot.
KEY FEATURES:
• X-SHOT CHAOS PERFORMANCE: These spherical high-impact rounds reach speed levels of up to 100ft/30m per second.
• X-SHOT CHAOS ROYAL EDITION: The premium gold blaster range consists of unique blasters within the category.
• HIGH-QUALITY DESIGN: The X-Shot Chaos Orbit has a impactful pump action load mechanism and holds up to 14 rounds, blasting rounds with unbeatable accuracy!
• SUPERIOR FIRE POWER: X-Shot Chaos round blasters deliver maximum performance in the round blaster category.
PACK INCLUDES:
1x X-Shot Chaos Golden Orbit Blaster, 24x X-Shot Dart balls
Best gift Every for my son

My son loved the gun with the partial gold covering. It came with stickers which he customized to look the way he wanted it, which was a great hit. He said it works great and has fun battles with it because it could shoot pretty far. It's a great toy and is so much fun. Would recommend it just for the fun and happy face it gave him
© 2021 ZURU Inc. All rights reserved
english
Please select your birthday.
By subscribe to receive emails from ZURU, you agree that we may use your personal information provided by you to send you marketing emails. You can opt out these emails any time by clicking the unsubscribe link or by contacting us. To see how to control your personal data, please see our Privacy Policy and Terms of Use
.
By subscribe to receive emails from ZURU, you agree that we may use your personal information provided by you to send you marketing emails. You can opt out these emails any time by clicking the unsubscribe link or by contacting us. To see how to control your personal data, please see our Privacy Policy and Terms of Use
.
Many of our toys are shaped by the creative minds of dreamers and innovators from all over the world. We welcome new ideas and cherish new relationships with inventors like you! Do you think you have a groundbreaking, unique toy idea for ZURU? We would love to here from you!
Please select your birthday.
By subscribe to receive emails from ZURU, you agree that we may use your personal information provided by you to send you marketing emails. You can opt out these emails any time by clicking the unsubscribe link or by contacting us. To see how to control your personal data, please see our Privacy Policy and Terms of Use
.
By subscribe to receive emails from ZURU, you agree that we may use your personal information provided by you to send you marketing emails. You can opt out these emails any time by clicking the unsubscribe link or by contacting us. To see how to control your personal data, please see our Privacy Policy and Terms of Use
.
Product Name
Required fields are marked with *
Overall Rating *
Click to rate!
Would you recommend this product to a friend?
Did you read product reviews online before first purchasing this item?
Where did you purchase the product?
Did you purchase this product for yourself or a gift for someone else?
You may receive email regarding this submission. Any emails will include the ability to opt-out of future communications.