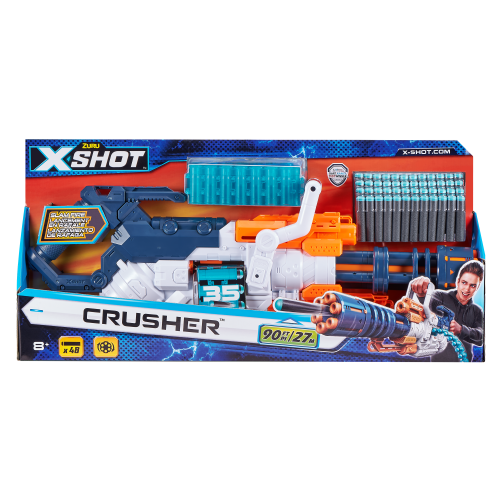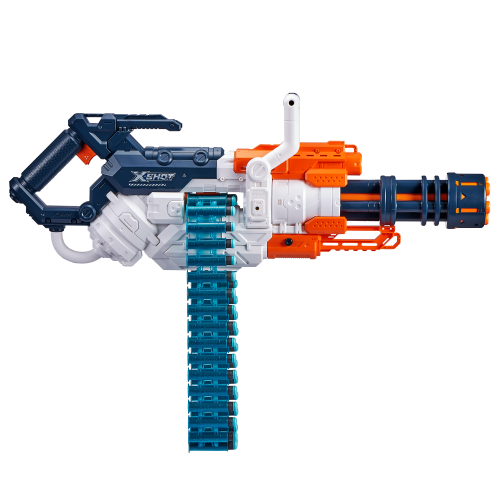 X-Shot Excel Crusher Foam Dart Blaster (48 Darts) by ZURU
The X-SHOT CRUSHER is the ultimate blaster you have been waiting for. You can annihilate your opponents with the single-shot function from up to 90ft/27m away. When the heat of battle intensifies though, unleash your 35-dart belt with Slam-Fire and take out the enemy with a inferno of flying darts.
KEY FEATURES:
• CRUSHER: the crusher 35-dart Capacity belt has an incredible shooting distance of up to 90 feet/ 27 meters, No wonder X-SHOT blasters are a three-time winner of the dartzone award
• SLAM-FIRE: When the battle intensifies, hold your finger on the trigger and use the pump action. Blast up to 4 darts per second and watch your enemies flee
• AUTO-ROTATING BELT: As you blast away, enjoy the autorotating belt ensuring you have more time blasting away.
• DART CAPACITY: Huge dart capacity with the integrated belt with 35-dart capacity.
• X-SHOT PROMISE: our mission is to deliver unbeatable value to our fans worldwide. Our 'up your game' Promise is to provide a combination of design excellence, market leading quality and unbeatable prices
PACK INCLUDES:
1x X-Shot Chrusher Blaster, 48x X-Shot Foam Darts
Excelente muy buena 5.0 out of 5 stars Todo rápido By Francisco Tapia on May 14, 2021 Excelente muy buena Images in this review

Bullets were not accurate counted. Pump broke already.

Grandson requested it and is happy with it.

Are you tired of going into a Nerf battle and thinking you have a perfect plan, but then the second you step on the field you get shot. Well I am here to tell you that there is only one solution to your problem. And that solution is the X-SHOT machine gun. This gun will send your friends diving for cover as you rapidly fire bullets from a safe distance away so you wont get shot.In my opinion this gun is so good because it fires four dillets a second and it needs no batteries unlike the guns that do take batteries and make a load of noise. As Addison pouter 13 bedford mass says "I couldn't even hear it fire then the next thing you know a bullet comes straight at me".Another reason that this gun is so good is because it can hold thirtyfive bullets most can only hold ten. So you can stay on the battlefield while your friends whose guns can only hold three bullets go to reload. So as soon as your friends come back you can blast them.One final reason this nerf gun is so epic and good is because it fires over ninety feet. Your friend might get jealous because they can only fire thirty feet. Speaking of that one time me and my sister were having a nerf battle and she started 56ft away from me, she thought she was out of my range but she was not and I got her she was furious it was awesome.So now that you have read the review you might want to get this gun and the next nerf battle make your friends feel the pain.

This is for mini war only & my kid loves it. 5.0 out of 5 stars 11 year old approved By Donna Bentley on March 28, 2021 This is for mini war only & my kid loves it. Images in this review

I bought too many Christmas gifts last year so I have had this gun hidden in my closet for about 5 months. Today was the day I finally broke this bad boy out in a nerf war with my 2 sons. They were shocked-and running scared! Lol. This gun is easy to wield. I did get the darts jammed eventually but we got it fixed. Definitely worth the money! (Yes , mom was declared the winner!)

Fun for everyone

Cannot Complain

Great dart-gun. Initially deceptive *only in appearance* that it looks like it is \"fully automatic\" (which would be awesome), but quickly reading through exterior packaging easily reveals that that is not the case. Not an issue, crank the loading handle and single squeeze the trigger for standard single-shot, or keep the trigger squeezed while cranking for rapid-firing. Very cool dart-gun, and out of all the dart-guns that my boys have (Zuru, Nerf, other brands, etc), their favorites are the \"X-Shot\" series. Cannot for the life of me figure out what the button on the bottom right side is supposed to be for/what function that serves. Drives my 9 year old crazy that he cannot figure out what id does, but does not detract from the fun from playing with it. Well worth it, great toy.

It is a pretty good little toy, that appears to be launching the darts from a rotating barrel, there is a single barrel in the center of the rotating look-like barrels that launches the darts. It does launch darts as rapid as you can pump the lever on top which does take the darts from the belt feed.

gave this to my son for Christmas, at first i was disappointed that it is a single shot even though the barrel spins. However, the power this thing has more than makes up for it. My cousins and uncles got ahold of it and the power went right to their head... xD they would give out a evil laugh and then look for a target to relentlessly blast.DO NOT give this to small children, I would recommend your child is at least 10 or they may find this to very un-fun to get hit with xDAlso wtf is this rating for Warmth and Stretch? LOL

I thought it might have been powered by batteries and fully automatic, but you have to cock it for every shot. Looks like a Gatling gun but isn't. However my son loved it and that's what matters most.

I mean it's cool, Clip is a pain, none of my bullets fit for it, so kinda disappointed. But it's cool

Awesome purchase! My son loves it! Shoots far distance, great quality!

Awesome product and awesome communication from the seller. Super helpful I would order from them 10/10 times. Thank you!

This gun is very powerful. The child needs to be very knowledgeable about gun safety, because the power of this gun could cause a bruise if the child victim is too close. My grandson accidentally shot a friend of mine in the deltoid and it left a little bruise on her and she's a grown woman, so it can be powerful. It is what it advertises!