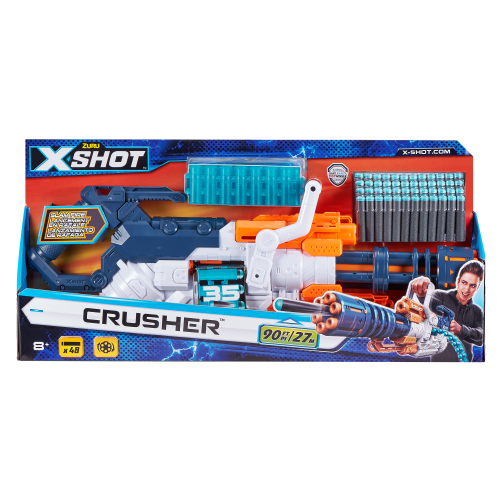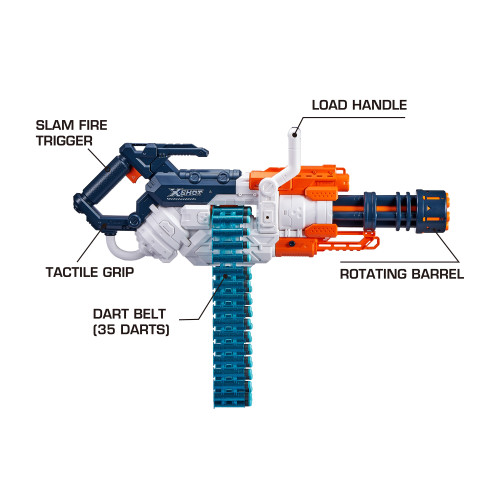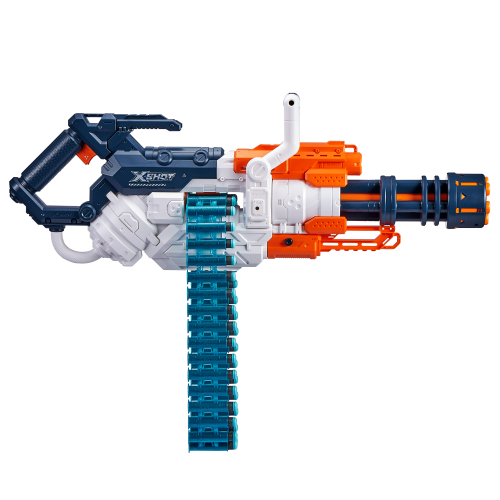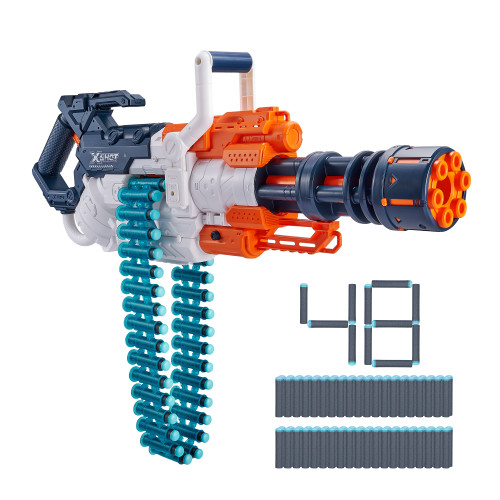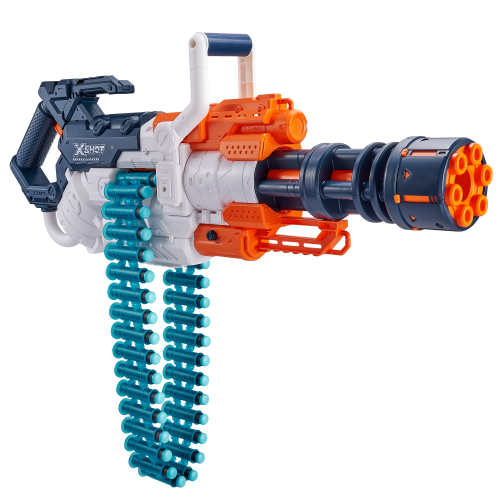 X-Shot Excel Crusher Foam Dart Blaster (48 Darts) by ZURU
The X-SHOT CRUSHER is the ultimate blaster you have been waiting for. You can annihilate your opponents with the single-shot function from up to 90ft/27m away. When the heat of battle intensifies though, unleash your 35-dart belt with Slam-Fire and take out the enemy with a inferno of flying darts.
KEY FEATURES:
• CRUSHER: the crusher 35-dart Capacity belt has an incredible shooting distance of up to 90 feet/ 27 meters, No wonder X-SHOT blasters are a three-time winner of the dartzone award
• SLAM-FIRE: When the battle intensifies, hold your finger on the trigger and use the pump action. Blast up to 4 darts per second and watch your enemies flee
• AUTO-ROTATING BELT: As you blast away, enjoy the autorotating belt ensuring you have more time blasting away.
• DART CAPACITY: Huge dart capacity with the integrated belt with 35-dart capacity.
• X-SHOT PROMISE: our mission is to deliver unbeatable value to our fans worldwide. Our 'up your game' Promise is to provide a combination of design excellence, market leading quality and unbeatable prices
PACK INCLUDES:
1x X-Shot Chrusher Blaster, 48x X-Shot Foam Darts
What a hit! My boys recently found the love of the foam dart world and they play non stop! This is their favorite nerf gun to date! Not near as heavy as it looks. It's big but very light weight!

I love this gun ! It has a lot of cool features. Such as the fact that if you hold the trigger and move the lever back and forth it enables rapid fire! I also love that you can buy more 35-dart belts to enable a almost-unlimited dart belt! I'd give one to all my friends if I could.

Great Gun - The price is a bonus

Its impressive, good built and once you get a hang of it, It launches hard & far.

Amazing

Omg this is such an amazing toy my son loved!!

best gift

my son said best b gift ever

Lots os fun

Very good toy. It very good quality and you can tell it will last long. Not to mention how much fun it was.

Good Purchase

Comes exactly as shown. Delivered a day early.

awesome gun!!!

It was great and works awesome because it is not motorized and does not get jammed, only downside is it takes a while to re-load and is hard for a kid to put the chain together but once you have done it, it is like a better version of nerf!!!

Absolutely love it!

A little bit bigger than the Xshot Omega, if the international shipping rate weren't so expensive(48 dollars) , I would definitely buy more!I like spring powered blasters more than electronic powered blasters.Xshot Crusher is very unique, cool and very practical for war type of games (only if you bought 100pcs+ of chains.).Overall very fun blaster to use, it really fits the machine gun theme.Great gifting option!

Zuru never lets us down!

I star buying this guns for my nephews they have a great time play with it, they are light that little ones can easy carrying, the color are brilliant and have good quality!!

This gun is the birthday kid special! He/she will be able to blast the heck out of everyone, especially if they have the single shot types and bday kid has this one. Love that it comes with so many dart. Of course love the price for a good quality dart gun. Definitely recommend.

This is one AWESOME blaster!! It has distance, speed, and a never ending supply of darts! This has got to be one of the most epic blasters out there right now. X-Shot for the win!

Great fun toy. But once you run out of ammo they other team can shoot you up. Loading takes 5 minutes. So it's a fun shooter. But not a good idea for pvp

My son LOVE it. It was a hit at his birthday party. I was surprised how big this really is in person.