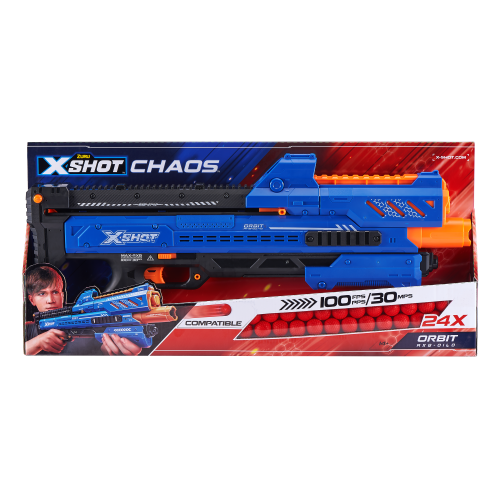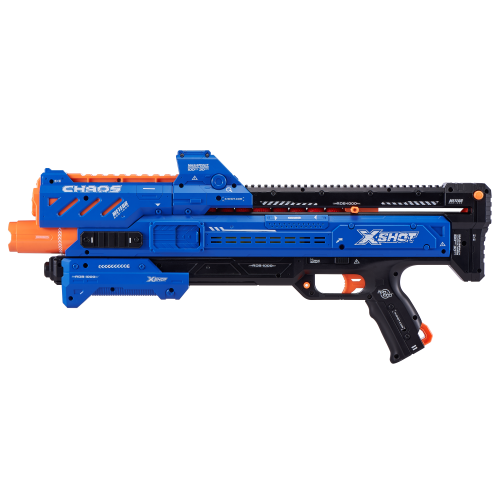 X-Shot Chaos Orbit Round Blaster (24 Rounds) by ZURU
The Chaos Orbit, with its impressive heavy duty pump-action loading mechanism, delivers maximum performance and accuracy. Enjoy round-blaster fun at its best.
KEY FEATURES:
• SUPERIOR FIRE POWER: X-Shot Chaos round blasters deliver maximum performance in the round blaster category.
• HIGH-QUALITY DESIGN: The X-Shot Chaos Orbit has a impactful pump action load mechanism and holds up to 14 rounds, firing rounds with ubeatable accuracy!
• X-Shot Chaos Performance: These spherical high-impact rounds reach speed levels of 100Ft/30 m per second
PACK INCLUDES:
1x Chaos Orbit Round Blaster
24x Rounds
Great blaster

My girls had hours of fun playing with this blaster. The little blaster only holds 6 rounds but the bigger one holds more. I like that these blasters are spring powered and not requiring expensive batteries. The pump handle is sometimes hard to pull back but my daughter has strong hands so it was never a problem to her. It shoots fast and hard so be careful with little kids. It is aesthetically appealing with its catchy colors. They are pretty powerful so make sure to not aim directly at people because it stings a little and if you fire outside there are chances you will not be able to find the balls. We lost a few. Overall, it's a good toy!

Lots of fun

I let my sons open and play with this demo. They immediately began to run around and shoot each other with the balls. The guns were easy to load and fire. There needs to be distance between the players because the balls can hurt, especially small children. They enjoyed playing with them. Our dog also loved chasing the balls after the boys fired them. I would recommend this product to any child who is responsible enough to handle playing with this type of toy and being careful how they shoot each other.

ZURU X-Shot

The Orbit works near flawlessly. Smooth operation. Comfortable pump grip. Compatible with nerf brand and dart zone brand balls. High powered for a unmodified toy blaster. This is a win all around. I highly recommended it!!

FUN product!

My kids loved them ages 10 and 4. The youngest had a little harder time learning how to use it but still caught on.

Accurate AF. ?

I have a lot of Nerf guns and this one sheets a lot more accurate and harder

Automatic with no batteries are better.

Great power but the build feels cheap. Not a solid gun, feels like it could break easily. Gave a 3 star because it does have a powerful shot

zuru does it again

awesome ball blaster. not going to lie it packs a little punch. great for playing at a distance highly accurate

My son loves. This can go some distance too and kinda stings when you get hit with it. Definitely nurf quality with a cheaper tag.

Fun Toy Guns

These are great quality toy guns they made my 4 year old very happy and kept him entertained for hours with lots of fun.

Great for outdoor play!

Perfect for outdoor play! This is so important for me.to find toys that kids can run around and exercise after being in online school all day! The balls are soft, there's two blasters which is awesome when you have two kids!

Was great loved it

Worth it

This xshot Chaos ball blaster combo it's amazing I'm 26 years old and I had a blast with my nephews totally recommend high quality materials.

Works well with adventure force rounds *tested it* and fires really well. Not compatible with Nerf rival rounds...very little jamming issues and is definitely worth it to buy two.