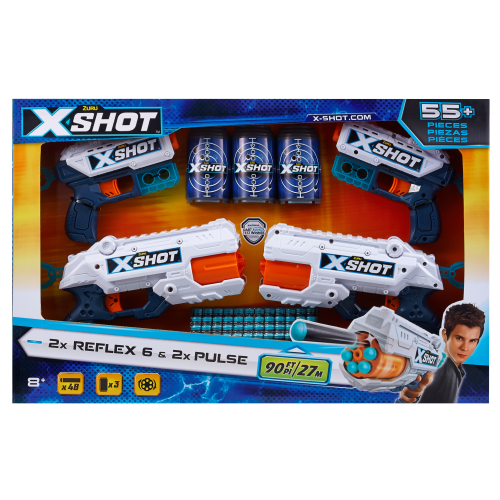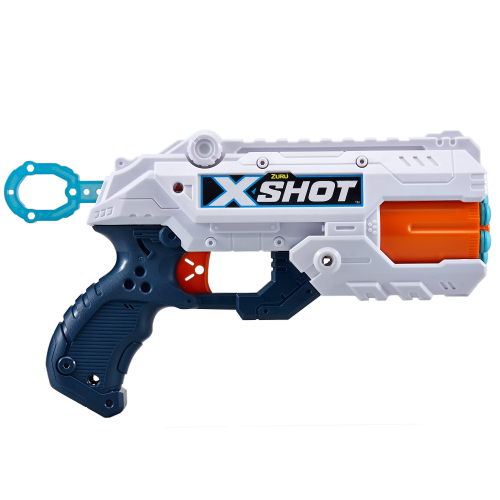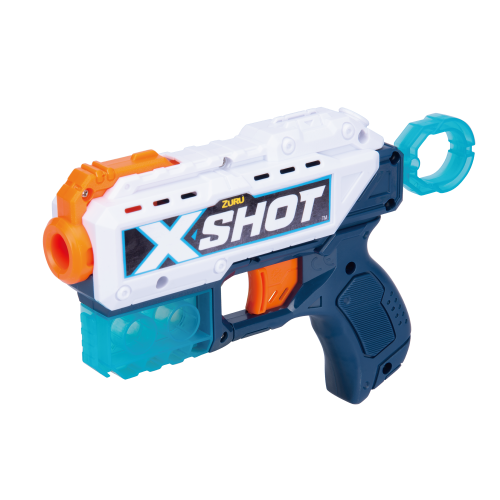 X-Shot Excel Double Kickback Double Reflex 6 Foam Dart Blaster Combo Value Pack (48 Darts 3 Cans) by ZURU
This 4 blasters pack features two X-Shot Kickback - the perfect small blaster that packs enough power to take on targets 27 meters / 90 feet away and Kickbacks when fired, and two X-Shot Reflex 6 - with a rotating barrel that allows you to blast 6 darts in quick succession from up to 27 meters / 90 feet!
KEY FEATURES:
• KICKBACK: The Kickback packs enough power to take on targets 27 meters / 90 feet away ; EASY TO RELOAD: Bottom dart storage
• REFLEX 6: Shoots Up to 55ft/17m
• AWARD-WINNING AERODYNAMIC DART: Dart-Range Award Winner
PACK INCLUDES:
2x X- Shot Kickback
2x X- Shot Reflex 6
3x Cans
48x Darts
Great value, quality guns.

Had an impromptu was with my husband. So with the money spent

2021-08-01

by

michelene parker

Bought for grandchildren, more powerful than reg nerf guns. Hurt if they hit you, but accurate and fun to use.

Fun family "war" with enough ammo for all.

Love them.We are having so much fun, no time to review.Great value, great product. Awesome service and delivery.

2021-07-21

by

Zuru Customer

I was very surprised at how strong they shoot! Good reliable fun! We only use them for indoor battles, but I would definitely recommend.

2021-07-21

by

Yvette Walsh

GREAT

2021-07-18

by

Jessica Conley

These things can SHOOT! I was pleasantly surprised and so were the National Guard members we bought them for.

Super fun to play with family or friends. Works great with digital score target

Great value great power

2021-07-12

by

Robert Northrup

Bought this for my grandsons birthday so he and his dad can play shoot em up. Good times.

2021-07-06

by

Gary Boesch

Great,deal. These guns have plenty power & not too hard to pull back. Would buy again .

2021-06-29

by

Zuru Customer

I ordered 2 sets of these and neither one came with the correct amount of targets. The first had 1 target and the second one had 2 targets. I thought there were suppose to be 3 in each set. Other than that, great toys.

This are soooo beyond amazing!!!!! My husband and boys love them !!! They are a trillion times better then nurf guns !!!!!!!

2021-06-02

by

Zuru Customer

Kids set up cans on picnic table and have fun shooting. eye protection advised
© 2021 ZURU Inc. All rights reserved
english
Please select your birthday.
By subscribe to receive emails from ZURU, you agree that we may use your personal information provided by you to send you marketing emails. You can opt out these emails any time by clicking the unsubscribe link or by contacting us. To see how to control your personal data, please see our Privacy Policy and Terms of Use
.
By subscribe to receive emails from ZURU, you agree that we may use your personal information provided by you to send you marketing emails. You can opt out these emails any time by clicking the unsubscribe link or by contacting us. To see how to control your personal data, please see our Privacy Policy and Terms of Use
.
Many of our toys are shaped by the creative minds of dreamers and innovators from all over the world. We welcome new ideas and cherish new relationships with inventors like you! Do you think you have a groundbreaking, unique toy idea for ZURU? We would love to here from you!
Please select your birthday.
By subscribe to receive emails from ZURU, you agree that we may use your personal information provided by you to send you marketing emails. You can opt out these emails any time by clicking the unsubscribe link or by contacting us. To see how to control your personal data, please see our Privacy Policy and Terms of Use
.
By subscribe to receive emails from ZURU, you agree that we may use your personal information provided by you to send you marketing emails. You can opt out these emails any time by clicking the unsubscribe link or by contacting us. To see how to control your personal data, please see our Privacy Policy and Terms of Use
.
Product Name
Required fields are marked with *
Overall Rating *
Click to rate!
Would you recommend this product to a friend?
Did you read product reviews online before first purchasing this item?
Where did you purchase the product?
Did you purchase this product for yourself or a gift for someone else?
You may receive email regarding this submission. Any emails will include the ability to opt-out of future communications.