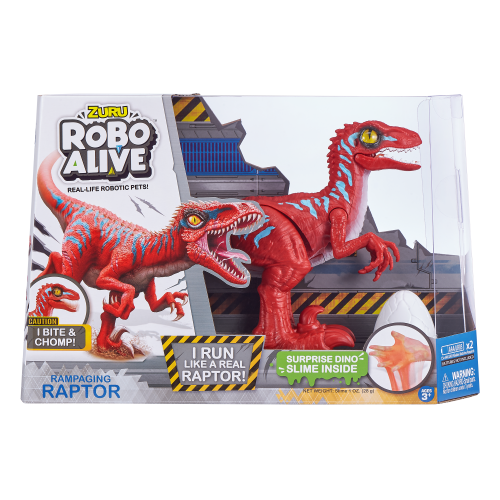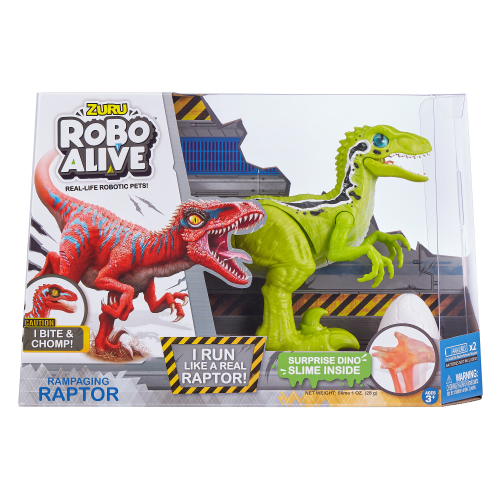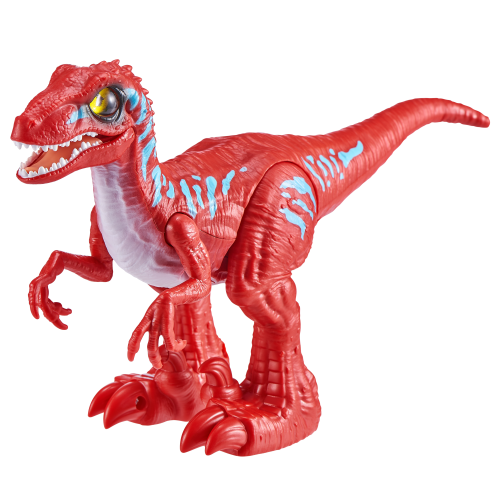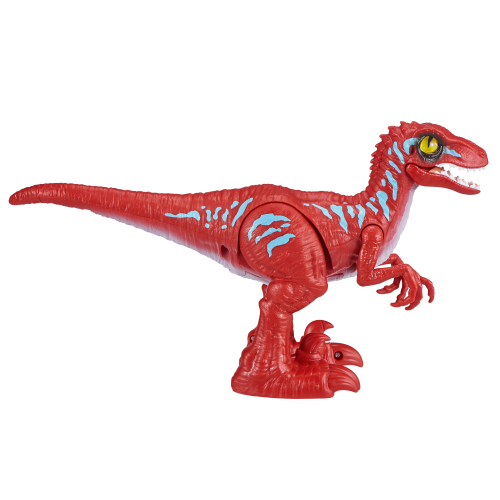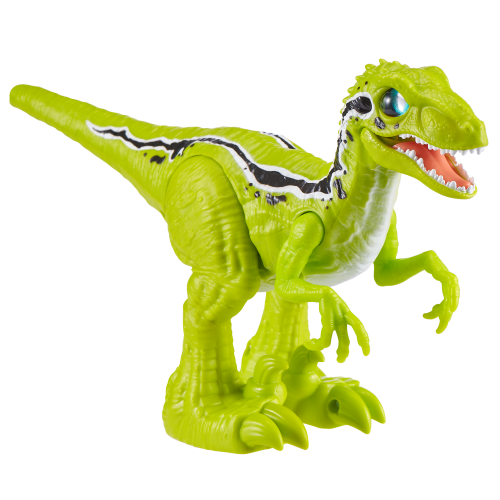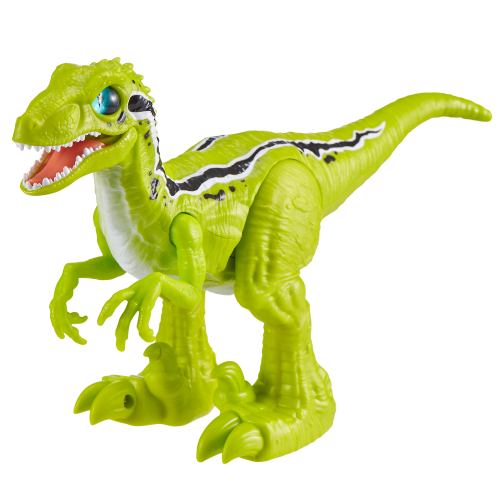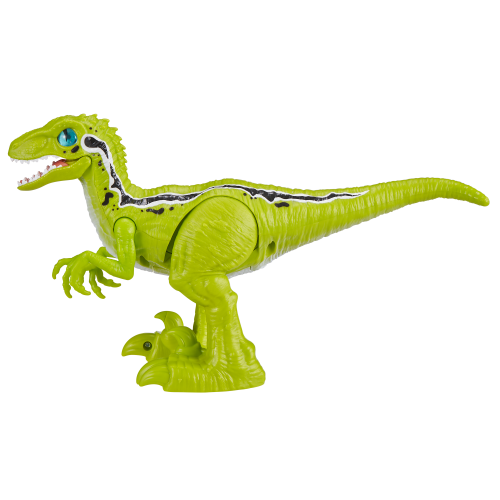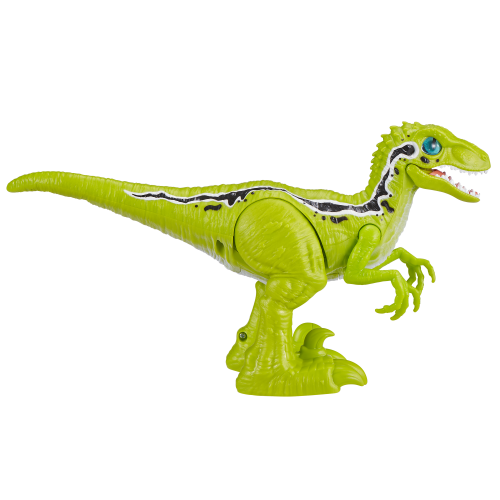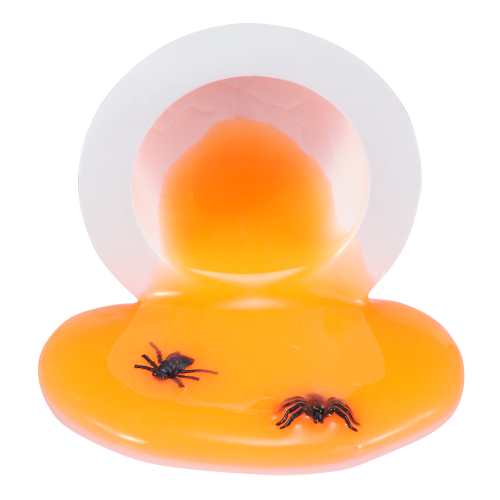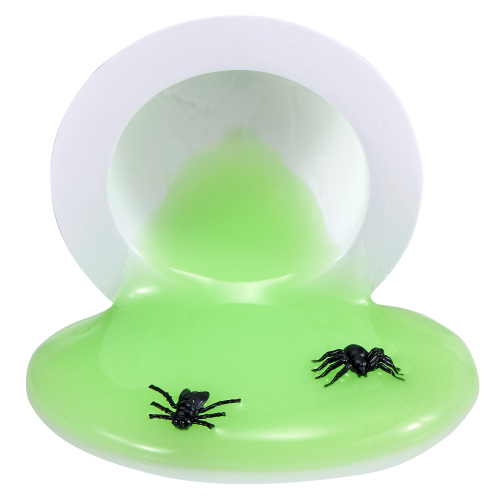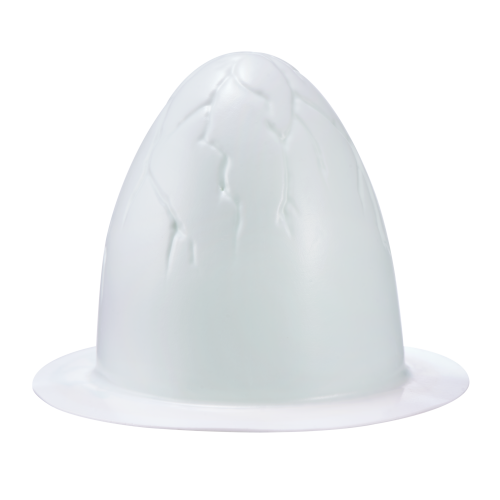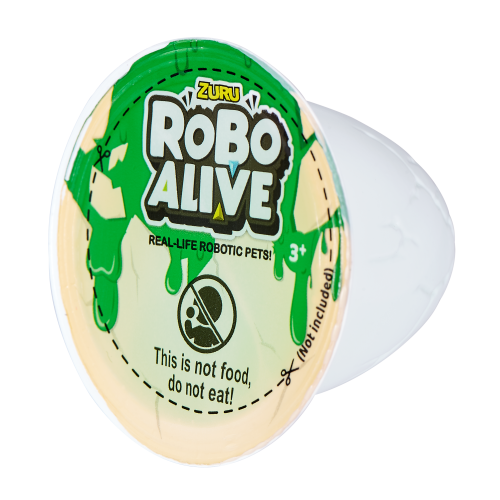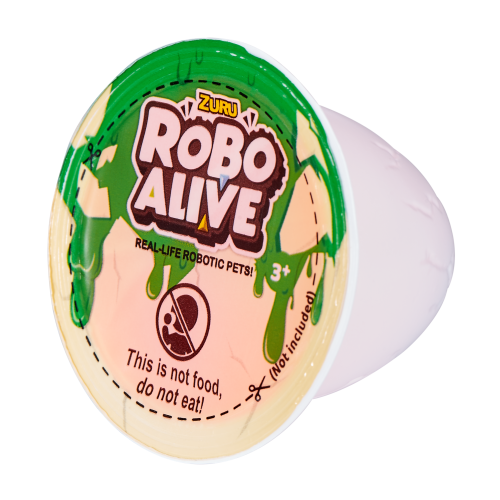 Robo Alive Rampaging Raptor Dinosaur Toy by ZURU
ZURU's new Robo Alive Rampaging Raptor runs and bites like a real dinosaur! With a super realistic design, fast clawing movements and advanced robotic technology, this Raptor outruns all other predators. Don't let it catch you and beware of the Surprise Dino Slime inside! It's more than alive – It's Robo Alive!
KEY FEATURES:
• REALISTIC RAPTOR MOVEMENTS: This raptor runs at rapid speed and bites like a real dinosaur! With real looking eyes and fast clawing movements this Raptor really comes alive!
• NEW SURPRISE DINO SLIME: Open your Dino Egg to discover the Surprise Dino Slime inside! It's glow in the dark and there are some gross surprises hiding inside…. What will you discover?!
• ADVANCED TECHNOLOGY: Robo Alive's advanced technology brings this Raptor to life! Combining high quality technology with a realistic design, this Raptor really comes to life!
• PACKAGE INCLUDES: 1 x Rampaging Raptor, 1 x Surprise Dino Slime Egg, 1 x Instruction Booklet
• ROBO ALIVE: Robo Alive features functioning robotic pets, that move and act like they're real! They're more than alive - they're Robo Alive!
PACK INCLUDES:
1 x Rampaging Raptor, 1 x Surprise Dino Slime Egg, 1 x Instruction Booklet
I guess you get what you pay for. It was one of the cheaper animatronic robot dinosaurs. It's very loud and only works when you turn the switch to on. But once it's switched to on, it will not stop until you switch it off or until the thing dies.

Excellent toy

My son loves this toy. It walks and roars. So worth it.

No help in what to do with them

The Dina sire eggs would be nice If you got directions on what to do with them a wast of 6.09

very cute

runs on 2 AAA batteries but it's really cute. the slime is messy though

Nice little toy

Nice little toy. Nothing I would buy again throw!!

Is it supposed to make noise?

I bought 3 diff ones for my triplets for xmas. didn't realize this one doesn't make noise and the other 2 do. Is it supposed to???

Fun toy

Entertaining for sure! Batteries do not last long, but I expect that. This is our 3rd robo alive product and it is fun for a toddler... decent price for a fun toy.

Fun toy

Terrific for Kids that love Dinos

Very cool Raptor

This is a fun little toy. He's part of a collection so I look Thor 2 picking out a couple more that I like as gifts for my grandsons. he runs all over the place and constantly chomps. I think he will be a big hit with the boys.

Such a great toy

This is awesome! I have a Dino loving girl and we have a lot of smaller dinosaurs but they don't make any noises, so these make it so much more realistic. Details are amazing, and she really loves the colors!

Fastest Raptor, ever!

So cool. These Robo Alive toys has not disappointed us so far! Kiddo was amazed at how fast the raptor is. With a bonus slime and bugs! Very affordable!

This is a really cool toy, a little bigger than I was expecting from the picture

Move with speed

Fun little toy for my Dino obsessed little boy! This is our first raptor toy and it was fun for it to truly move with speed! The battery life lasted a long while and kept my son busy!

nice toy and very affordable

cool toy, very good price for this toy set, for about $10, this dinosaur actually animates when you inserted the AA batteries and turn it on.

nice sturdy toy and great price

very sturdy and well made .. comes with an egg of slime. . . Christmas present but we always check them out first ... price is great on this item .. it runs pretty fast and sure to be a hit ...