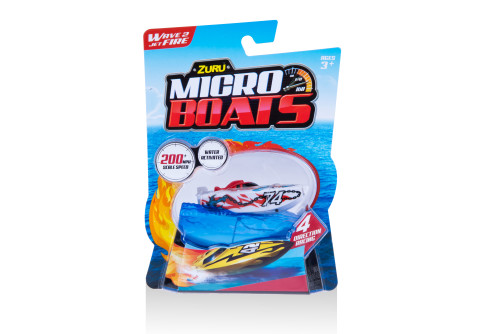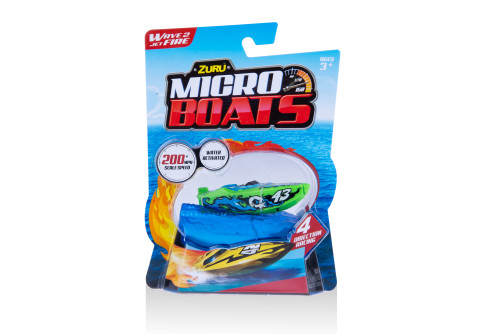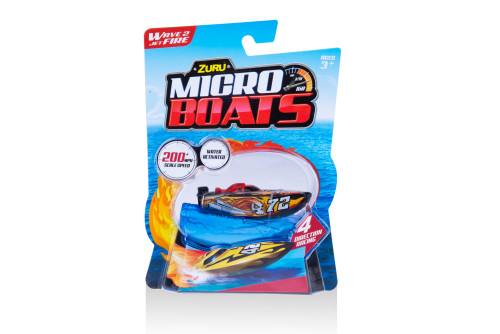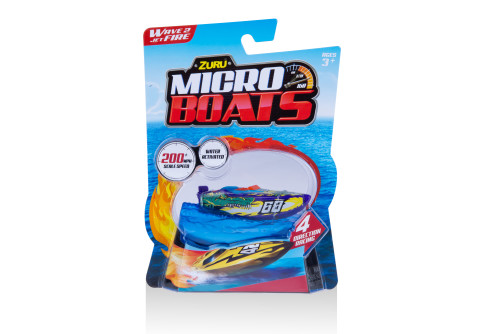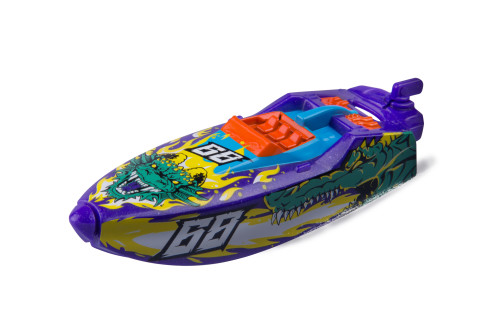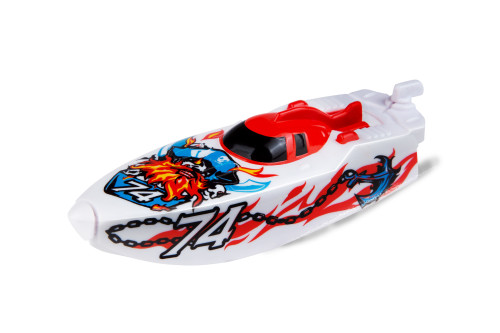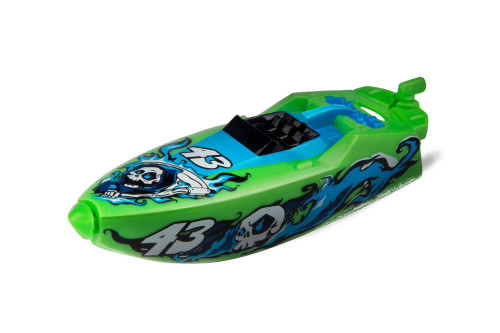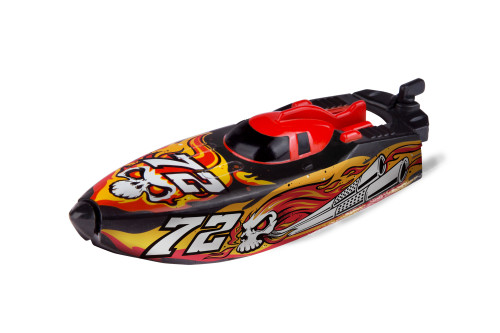 Micro Boats Fully Motorized, Self-steering Micro Boat Pack by ZURU
ZURU Micro Boats are fully motorized, self-steering speedboats that perform full 360° doughnuts and automatically reverse when hitting a wall with the latest micro-robotic sensor technology! Race in all four directions with an amazing scale speed of more than 200 miles / 320 kilometers per hour!
KEY FEATURES:
• Fully Motorized
• Self-Steering
• Performs Stunts and Tricks
• Reverses When Hitting a Wall
PACK INCLUDES:
1 Micro Boat (Assorted Color/Models)
mini boat

great fun in the hot tub for the grandkids. Even grandpa enjoyed it. Fast little boat!!

Wonderful toy the kids have so much fun with them in the pool we bought some more

My 3 year old grandson loves power boats and absolutely loves these boats for play in tub and pool. These boats are amazing and I highly recommend them. After playing with them in water, be sure to dry throughly or they will continue to run until battery dies. We set them on a dry wash cloth. They go fast forward,backward and sideways. Price at Walmart is much less than Amazon, Toys R Us or ebay. You won't be disappointed.
© 2021 ZURU Inc. All rights reserved
english
Please select your birthday.
By subscribe to receive emails from ZURU, you agree that we may use your personal information provided by you to send you marketing emails. You can opt out these emails any time by clicking the unsubscribe link or by contacting us. To see how to control your personal data, please see our Privacy Policy and Terms of Use
.
By subscribe to receive emails from ZURU, you agree that we may use your personal information provided by you to send you marketing emails. You can opt out these emails any time by clicking the unsubscribe link or by contacting us. To see how to control your personal data, please see our Privacy Policy and Terms of Use
.
Many of our toys are shaped by the creative minds of dreamers and innovators from all over the world. We welcome new ideas and cherish new relationships with inventors like you! Do you think you have a groundbreaking, unique toy idea for ZURU? We would love to here from you!
Please select your birthday.
By subscribe to receive emails from ZURU, you agree that we may use your personal information provided by you to send you marketing emails. You can opt out these emails any time by clicking the unsubscribe link or by contacting us. To see how to control your personal data, please see our Privacy Policy and Terms of Use
.
By subscribe to receive emails from ZURU, you agree that we may use your personal information provided by you to send you marketing emails. You can opt out these emails any time by clicking the unsubscribe link or by contacting us. To see how to control your personal data, please see our Privacy Policy and Terms of Use
.
Product Name
Required fields are marked with *
Overall Rating *
Click to rate!
Would you recommend this product to a friend?
Did you read product reviews online before first purchasing this item?
Where did you purchase the product?
Did you purchase this product for yourself or a gift for someone else?
You may receive email regarding this submission. Any emails will include the ability to opt-out of future communications.