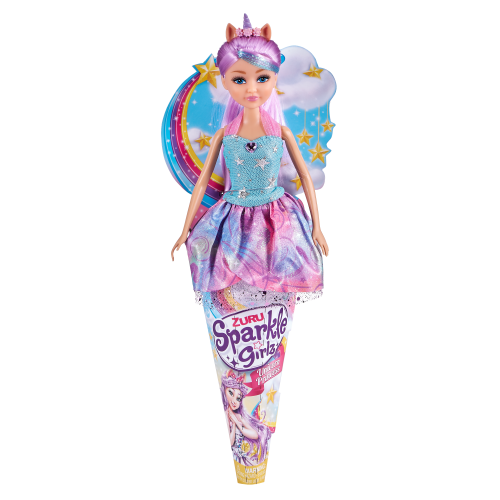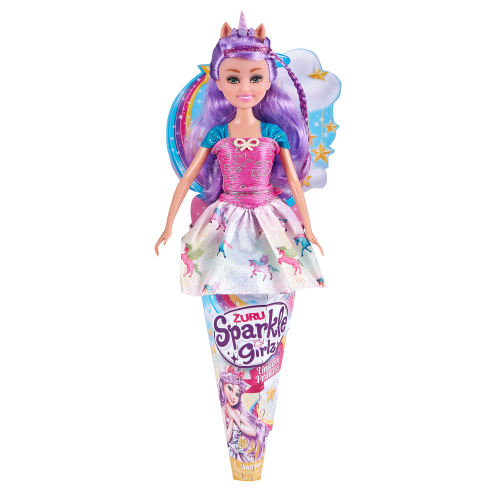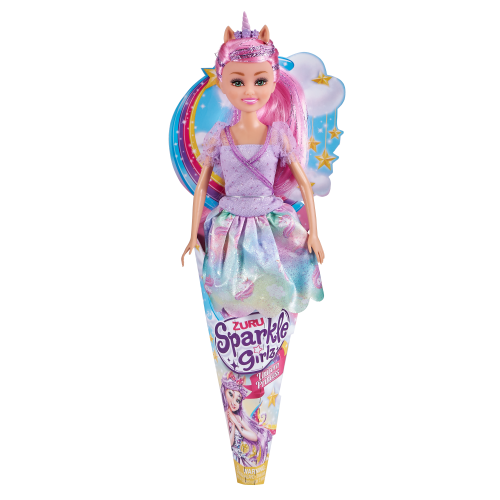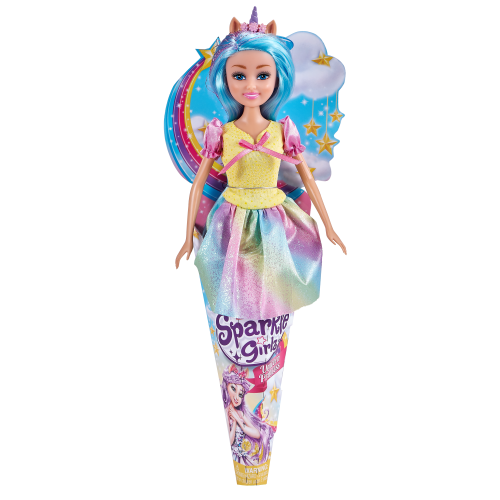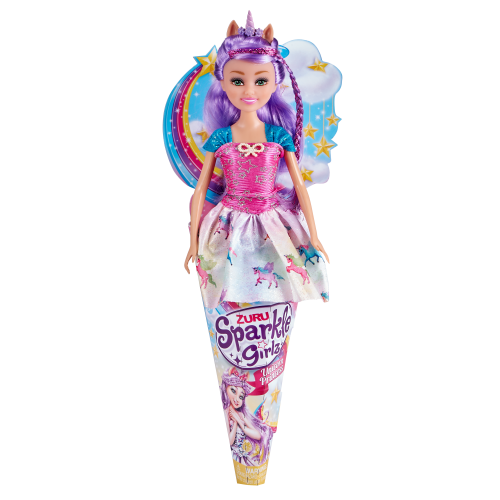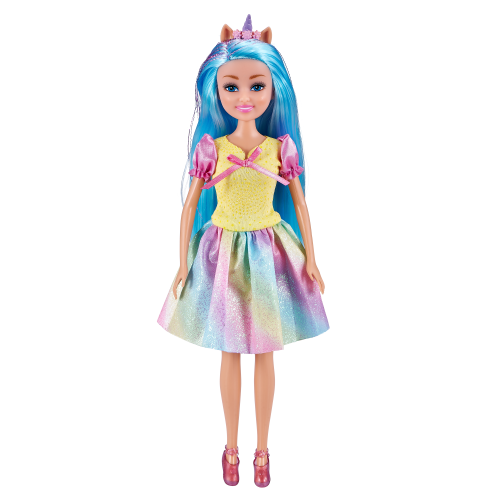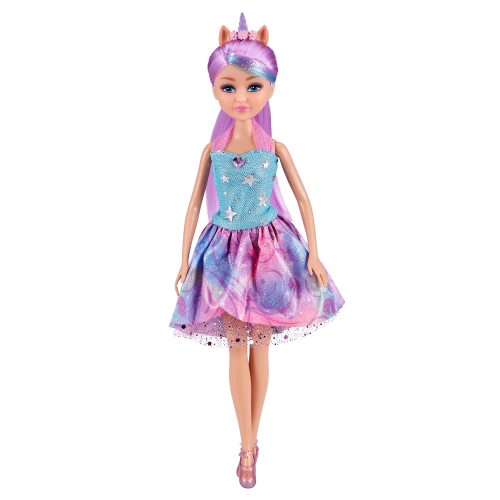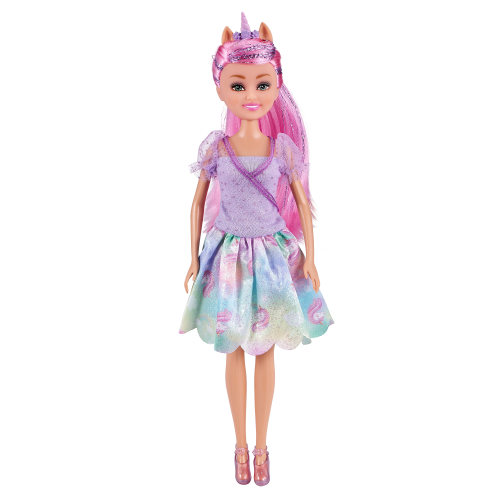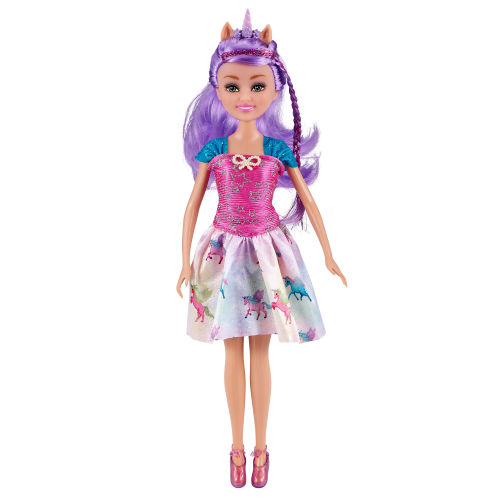 ZURU Sparkle Girlz Unicorn Princess Doll (syles may vary)
ZURU Sparkle Girlz Unicorn Princess Doll is ready ride towards magical adventure. Outfit is beautiful and detailed with sparkle and colour. She even has a unicorn crown! You can remove outfit and swap with other Sparkle Girlz, as well as her shoes! Brush and style your dolls beautiful long soft hair, including a magical sparkle highlight! Her arms, legs & head move for extra imagination fun! 4 Unicorn Princess dolls to collect.
KEY FEATURES:
• Super soft hair for brushing and styling
• Super Sparkly Removable & Interchangeable Outfit
• 5 points of articulation
• 1 pair of remvable & interchangeable shoes
PACK INCLUDES:
1x 11.5" Doll 1x Interchangeable Outfit 1x Pair of Shoes
Perfect gift

Very good quality. The colors was awesome. Perfect gift for the little ones !

Cute and fun!

I actually bought this doll for my younger daughter who was absolutely obsessed with unicorns, then accidentally bought it again when I saw it in the store. I got home and realized she already had it. My older daughter was delighted to get the extra doll and they are excited to have twin sister dolls. They think the dolls are cute and they can play with all the doll accessories they already have!

Great addition to doll collection

Such a great addition to my daughters doll collection. She has play house and school with the fairies and minis

Long silky-smooth hair

Purchased for granddaughter. Lots of color and the hair is long and silky-smooth. Very beautiful. Outfit is removable and standard sized clothes fit easily. Packaging is easy to remove; your child can do it. Stylish clothing and shoes too. Great product!

Cuteness

Very cute toy. My daughter saw it and her face turned into an instant smile. I love it because she can use it with her doll house and its easy to store!

Beautiful!

These dolls were are great addition to my daughter's doll collection! Bright and sparkly! Great quality and a price!

So many options with Zuru!

My daughter loves all things unicorns. Add unicorn and princesses and you have a winner! Much better value than other brands and just as special to her - even more so because they have unicorn horns. I love there are different hair, skin colors and clothing options. Would be great as a surprise or present.

Our first unicorn Sparkle Girlz! Love her

My daughter is unicorn obsessed! And we have a small collection of the Sparkle Girlz already-so we've already been fans. I love her little horn and the fun little colors. Her arms, legs, and head move too with play. We love her

Recommend

Made very well. Love the unicorn ears. The colors are very vibrant. Daughter loves it!

Super cute and a great bribe!

I got this as a bribe to get my daughter to learn her sight words and it worked amazingly!! She loves unicorns so of course she was obsessed with this doll, and she got her work done!

Great quality

My girls LOVE unicorns. But are tough on toys. I waited to see how this would hold up against my kids and she has done great. Usually things are gone and broke before you know it. The cute little horn and ears are still in great condition after their playing with it so much. Shows great quality.

Great price

My daughter loves this unicorn themed doll. She is just beautiful with her dress and hair. My daughter is very happy to add her to her new collection of Sparkle Girlz. Great price for this beautiful doll.

Super cute doll

I love the fairy mu daugher loved it too

Unicorn Princess for the win!

A unicorn princess, yes please! My daughter is so excited to have a unicorn themed doll. She is just beautiful with her dress and hair. Very pretty face too. We are happy to add her to our collection of Sparkle Girlz. Great price for this beautiful doll.